Horst Construction & Industry News, Updates, Videos
It's right here – the latest news about Horst. Learn more about our projects and industries, our company and employees, milestones, and videos. Trust Horst as your next building construction company.
For over 120 years, Horst Construction has been synonymous with integrity, quality, and collaboration. We listen first, and then build what matters to you.
We work as a team to ensure your goals are achieved…beyond your expectations. Horst services for exceptional environments include: Preconstruction Planning & Budgeting, Cost Management, Project Management, and Construction.

---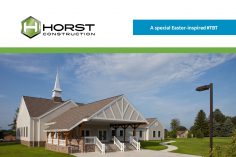 #TBT – A Special Story about Grace Fellowship Church
#TBT in honor of Easter! A Special Story about Grace Fellowship Church Certain stories become legendary around our office. Sometimes More ❯