Horst Construction: Five Generations Strong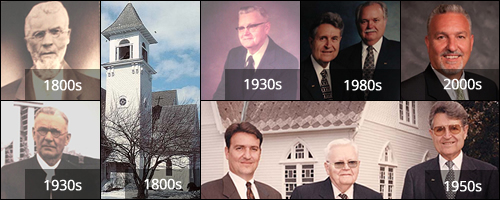 1800s
Trinity Evangelical Congregational Church asked Joseph Horst to build their new church. A trustworthy man and distinguished Master Builder, Joseph took on the job with great care and pride – from planning and design to construction. Weekly services are still held at the church.
1930s
Horst's son, William, joined the family business. By the time Abe Horst, Sr., part of the third generation, joined the business in 1934, the Horst name was widely known for quality craftsmanship and honored handshake commitments.
1950s
Fourth-generation Abe Horst, Jr. joined the family business in 1952, followed by his brother Clyde in 1957. As the industry evolved, Horst Construction continued to grow their business by building strong relationships and delivering quality construction projects throughout Lancaster, PA and surrounding areas.
1980s
Clyde's son, Randall, joined the family business in 1983. The company continued to grow and evolve, offering a broader range of construction services across numerous industries. Through Clyde's leadership over the next decade, Horst became a privately held group of companies with insurance, property management services and senior living joining the construction company.
2000s
Owned by the family's fifth generation and managed by an experienced construction industry team, Horst is proud to serve the eastern U.S. with design-build, preconstruction, master planning, construction management, general contracting and special services.