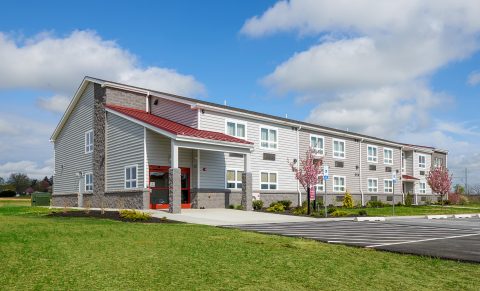 Ambassadors for Christ, Religious Retreat
| | |
| --- | --- |
| Owner: | Ambassadors For Christ |
| Location: | Paradise, PA |
| Architect: | Cornerstone Design Architects |
Ambassadors for Christ selected Horst Construction to build their 14,643 square foot Christiana Tsai Guest Lodge. Named after a well-known Chinese evangelist and author, the two-story facility provides 22 guest rooms and 4 suites for visitors that attend AFC training center conferences and other ministry events. The building has been designed to easily accommodate future expansion as their needs increase.
Project Delivery Method
Project Type
Project Size
Services
Preconstruction
Value Engineering
Cost Management
Project Management
Features
22 Guest Rooms
4 Suites
Laundry Facility
Challenges
Incorporating Chinese principles to harmonize guests with the surroundings and minimizing extraneous noise were high priorities for this project.
Sound reduction techniques included the use of wood framing, skip stud wall framing, installation of Gyp-Crete on the second floor, sound insulation, and acoustical caulking between guest rooms.
In addition, Horst recommended Packaged Terminal Air Conditioner (PTAC) units traditionally used in hotels for high efficiency and noise reduction both inside and outside of the building.
An in-ground water tank is used for both domestic and fire suppression water needs and is supplied by an on-site well.
An upgrade to the laundry equipment from residential to commercial grade required significant modifications to the building design late in the planning stages. The design team developed solutions to reconfigure the heavier equipment for dryer exhaust requirements and relocate the hot water heaters.