St. John's Towers
Posted on Thursday, December 1, 2016
Another Exceptional Environment…from Horst
Horst Construction Completes St. John's Towers Renovation for HUD Senior Living Facility in Havre de Grace, MD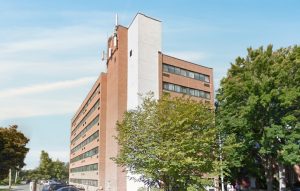 St. John's Towers, an affordable senior living facility, worked closely with the Horst Construction team to renovate this seven-story apartment building, adhering to current industry standards and modernizing the interiors.
The project included bathroom renovations, adding stairway handrails, and replacing carpeting. One unique aspect of the project involved HUD financing. To accomplish this, Horst worked in collaboration with the Gates Dunaway Group, an Atlanta-based expert on affordable housing preservation and development, to efficiently prepare the appropriate paperwork to get the required funding that allowed the project to get off the ground.
---
"I've never observed such a smooth renovation process.Even though we encountered a number of unforeseen issues, Horst was able to deal quickly and calmly with each situation, and you all made it so much easier for the property management."
– Gates Dunaway, Principal
---
Roger Josephian was the Horst Project Manager assigned to St. John's Towers. "Some of the biggest challenges that we at Horst face can be overcome by minimizing the disruption to both the staff and residents and being willing—and able—to accommodate everyone's schedules."
First and foremost, once you understand that these facilities are people's homes, not just where they live, you adopt a completely different mindset—one that is aligned with the owner's goals, stated Roger.
For more information about building, expanding, or renovating senior living environments, contact Scott Burkholder.

Like this Article? Subscribe to Our Feed!