Webinar: Understanding Design Build in 3 Easy Steps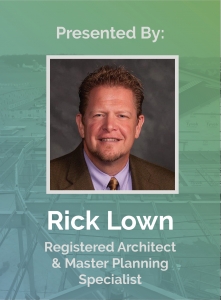 Tuesday, March 16 at 10:30 am
We know there are many construction options to consider and understanding the differences between methods can be a challenge. This webinar will focus on the Design Build method and break it into 3 easy steps that simplify the process and help you understand whether it's right for your organization.
Learn from Master Planning Specialist and Registered Architect Rick Lown about the basic steppingstones in Design Build and why it ranks as the delivery method with the highest satisfaction rating and best overall experiences across the board!
The webinar includes a designated time for Q&A and free downloadable education tools in a no-pressure environment. Please feel free to invite someone who you feel could benefit from this! Each person must sign up individually.
All attendees will be entered into a drawing to win a $50 Visa Gift Card!

Note: This is the first in a series of three webinars we're putting together to help guide churches and religious schools/organizations on their construction journey. We're out to provide helpful, quality information to get your project off on the right foot in a no-pressure, easy-to-understand manner, free of charge. If you sign up for this webinar and find the information helpful, we hope you sign up for the next two in the upcoming weeks!