2022's Top 5 Construction & Design Trends for Private Schools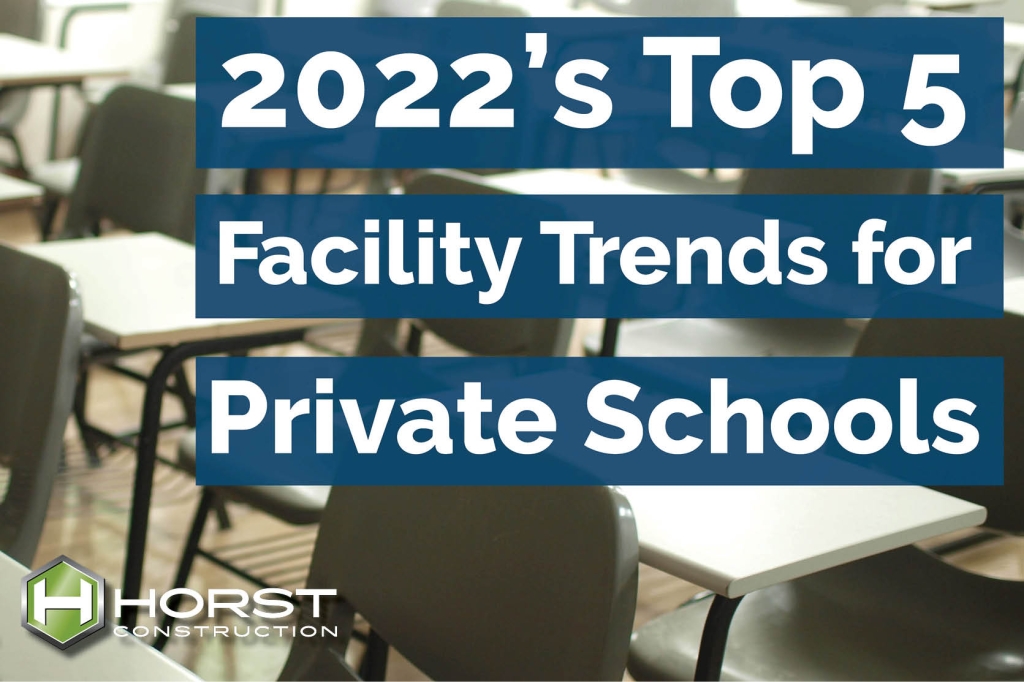 If you're looking to build a new school or expand or renovate an existing one, there are several important things you need to consider, like budgeting, time frame, and scope. But here's a new one: how will it suit the learning environment in 2060?
40 years from now sounds ridiculously far off, but it's possible—even likely, that the school facilities we're building today will serve students several decades into the future.
From new technology to enhanced teaching methods, it seems like trends and practices change faster now than ever. But school construction projects can be expensive. How do you keep your school up-to-date and relevant without having to do extensive renovations every few years?
By thoughtfully integrating today's design trends into your private education construction project, you can ensure a great education for students today, next year, and decades from now.
We've come up with a list of the top five trends in 2022 that can carry your school into the future:
1. Stay as Flexible as Possible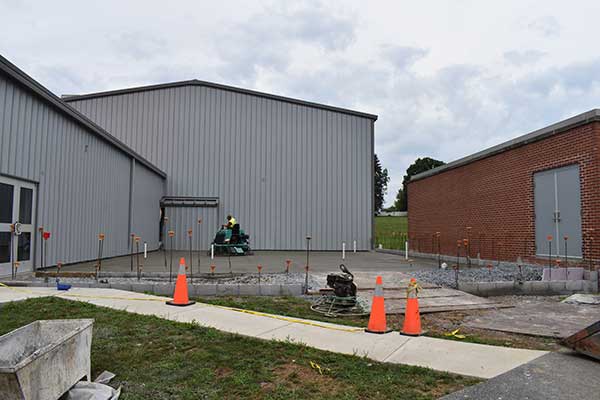 If there's one trend to walk away with from this article, it's flexibility.
The world is changing at an increasingly fast rate. Each day, technology is gaining a bigger foothold in our daily lives. Our student body is becoming more and more diverse. Our complex world requires increasingly specialized skillsets.
To properly prepare students for tomorrow's needs, your school needs a facility that can be easily changed. By designing with flexibility in mind, you won't need to undergo huge, extensive renovation projects every few years.
What does flexibility look like in a school? Here's a list of some examples:
Easily moveable classroom seating that gives educators the ability to quickly transform their rooms to suit changing lesson plans.
Moveable walls that allow educators to create smaller breakout spaces for learning or larger collaboration spaces.
More outlets and charging stations for devices.
Design new buildings with future expansion in mind.
If renewable energy isn't in the cards right now, design your new building to make it easier to integrate later.
2. Balance Independent Learning Spaces with Group Engagement Spaces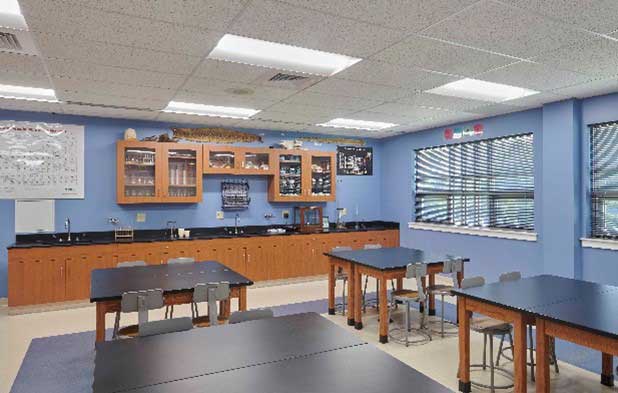 It's well documented that our environment affects the way we learn. Sitting at the same forward-facing desk isn't ideal for all learning situations. Today's schools are embodying this by creating purposefully designed spaces for different learning styles.
To help students develop independent learning skills, many are creating smaller spaces like reading cubbies. With a private space, students are less likely to distract one another, which improves focus.
When breaking into small groups, students benefit from small tables or desks that can be moved together to form an environment where peer interaction is easy. For larger groups, some schools are creating larger rooms where students in different classes or grades can easily interact and learn together.
Other popular learning spaces include outdoor laboratories, recreation centers, and makerspaces.
Makerspaces are areas with large tables and equipment needed to create and experiment. They're a place to execute independent or collaborative project-based activities that help build problem-solving skills through hands-on learning.
These more specialized environments can also help students' emotional well-being and development, which helps support learning and social development.
3. Integrate Today's Technology & Prepare for Tomorrow's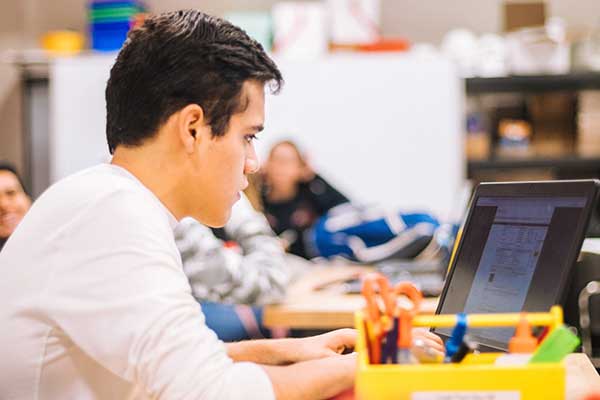 It's probably no surprise technology made our list. Over the past few years, smart screens, audio-visual systems, and media centers have become must-haves for all schools. Some schools are even creating rooms and spaces dedicated to virtual reality.
From creating enriching educational experiences, to developing important skills, to learning how to engage with technology safely and healthily, their place in the classroom is well-founded.
However, technology and its role in education is changing rapidly, and it isn't likely to slow down. What's cutting-edge today can be standard in just a few years. And what's standard can be outdated in just a few more.
When designing your building around today's technology, try to keep things flexible and easy to change, so you can more easily integrate new technology in the future. This can include things like more outlets and charging systems and better access to Wi-Fi in individual classrooms.
Technology can also help us create a more diverse learning experience for all students. As research continues to reveal that more students need special accommodations for learning, many schools are finding the best way to provide these students with the support they need is to do so in a typical classroom, as opposed to creating separate special needs classrooms.
Access to learning support devices and technology allows them to learn alongside their peers in blended learning spaces. This helps special needs children feel less isolated and can improve their social well-being.
4. Use Nature-Inspired Design Principles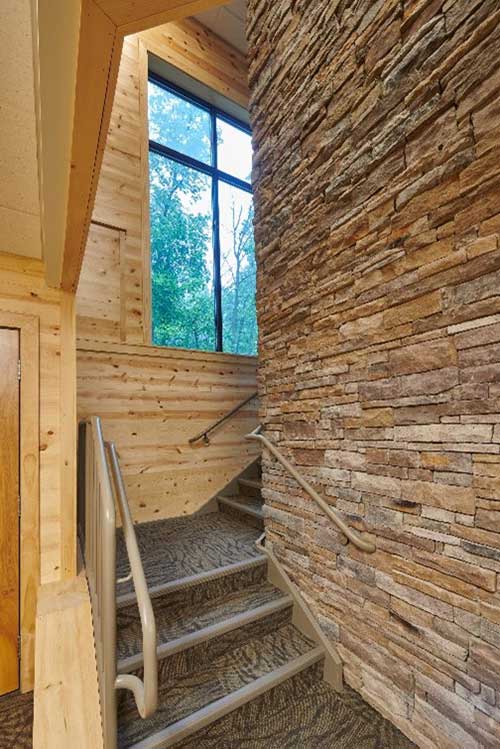 As we spend more and more time inside and away from the natural world, we're learning how much natural elements improve our experience. Integrating natural elements indoors through biophilic design has been shown to have measurable benefits on both our physical and mental health. Specifically in schools, they have been shown to increase test scores and reduce absences[i].
This includes large windows that expose views of the outside scenery and sunlight. If you can't integrate real plants and natural light, there are some ways you can integrate artificial versions. There are LED lights available that mimic the sun, changing their color over the course of the day. Wall art with plants and other natural elements can substitute natural views outside of windows when other solutions are not feasible.
Even green-colored walls can trigger some benefits. Natural colors, patterns, textures, and surfaces can help create this effect when large windows and views of nature aren't possible. Look at integrating this theme into the walls, floors, and furniture. Incorporate plants and water fixtures to breathe life into indoor spaces.
5. Opt for Energy Efficient Designs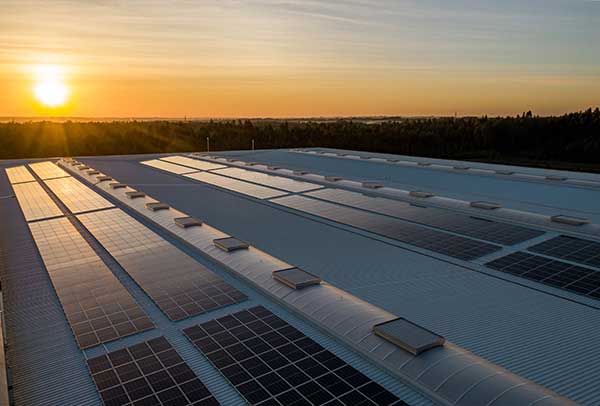 Small fluctuations in energy rates from year to year are normal, but long-term trends always lead to energy costs rising. When you're building a facility that's meant to last several decades, you'll want to consider how much it will cost to keep that building running in 40 or so years.
By integrating energy-efficient designs and renewable energy, you can drastically cut back on operating costs. But it isn't all about the future. These practices can start saving you money from day one, meaning you'll have more money to invest back into your school and its enrichment activities.
The benefits go beyond financial. Doing so will send a positive message to your students and will help you reduce your school's carbon footprint. Buildings account for 38% of the coutry's total carbon emissions[ii]. By incorporating energy-efficient designs and renewable energy sources, you can significantly reduce your school's environmental impact.
Popular energy-efficient building methods for schools include:
Using LED lighting and energy-efficient appliances wherever possible.
Looking into solar, wind, or geothermal as a means of producing your own electricity.
Incorporating as much natural lighting as possible to reduce the need for electric lights.
Using building materials like insulated concrete forms and building envelope materials to make your school thermally efficient.
Integrating passive solar building design elements to reject heat in the summer and collect and store heat in the winter.
Creating green roofs, rain gardens, and native/pollinator-friendly gardens that are great for the local ecosystem and can also be great places for students and staff to unwind.
While building green may cost slightly more initially, it can pay for itself in dividends. It can also be a great educational tool for your students.
By teaching them about the benefits of investing, you can teach immediate vs. long-term gratification. You'll also get them excited about sustainability and the environment, which can be a fantastic career path.
It's estimated that the global renewable energy sector could grow by 217% by 2030, from 12 million jobs in 2020 to 38 million[iii]. Additionally, the median wage for jobs in this sector is 25% higher than the national average[iv]. By showing your students first-hand the benefits of renewable energy, you can open their eyes to a new career path in an in-demand, well-paying field.
Whether for financial reason, environmental reasons, or both, integrating energy-efficient practices are a great way to ensure your new educational building serves your school for decades to come.
Using 2022's Trends to Create a Timeless Building
Today's trends in education design focus on creating learning environments that support new teaching methods. By blending comfortable spaces for independent learning with engaging spaces for group engagement, you can deliver a well-balanced educational experience. You can ensure your school is always up to date by integrating today's technology and preparing for tomorrow's.
Let nature inspire your design choices to give your staff and students the mental and emotional benefits of engaging with the natural world. You can also keep costs and carbon emissions low by using energy-efficient building principles.
Overall, you can keep your school feeling fresher longer by building with flexibility and the future in mind, while still maximizing the impact these changes have on your students today.
Planning a school construction project that embodies all that your school needs can seem overwhelming. But it doesn't have to be. At Horst Construction, we'll come on board and work collaboratively with you and your design team to ensure we create a plan that results in a facility that meets all your school's needs while staying within your budget.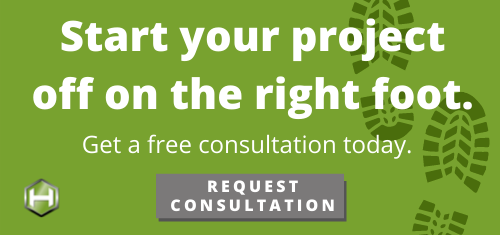 [i] https://s3.amazonaws.com/legacy.usgbc.org/usgbc/docs/Archive/General/Docs2908.pdf
[ii] https://archive.epa.gov/greenbuilding/web/html/whybuild.html
[iii] https://www.reuters.com/business/cop/renewable-energy-jobs-grew-globally-2020-despite-covid-19-crisis-2021-10-21/
[iv] https://e2.org/reports/clean-jobs-america-2021/
Posted November 23, 2021