Materials, Fixtures, & Finishes – 7 Ways to Get the Best for Your Construction Project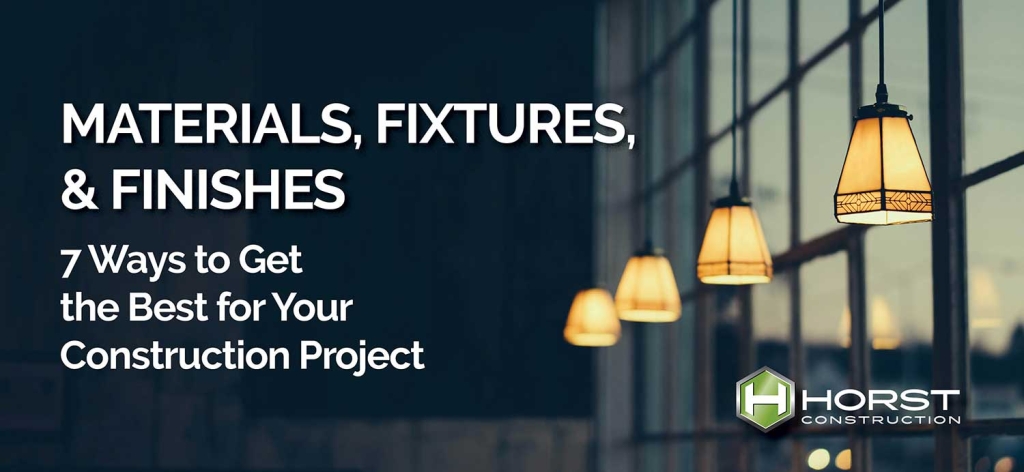 Whether building from the ground up or renovating an existing space, a construction project will require you to make a plethora of decisions. Chief among these is selecting the building blocks of the project itself — the materials, fixtures, and finishes.
The items you choose for your project will not only impact the final look of the building, but they'll also influence functionality, durability, and of course, the cost.
With so many factors to consider, making the right decisions can feel overwhelming. But fear not — we've got you covered! In this blog, we'll share tips to help you select everything from the structural studs to the carpets.
Learn More: Wood, Steel, Concrete, or Masonry: What's the Best Building Material?
Project Requirements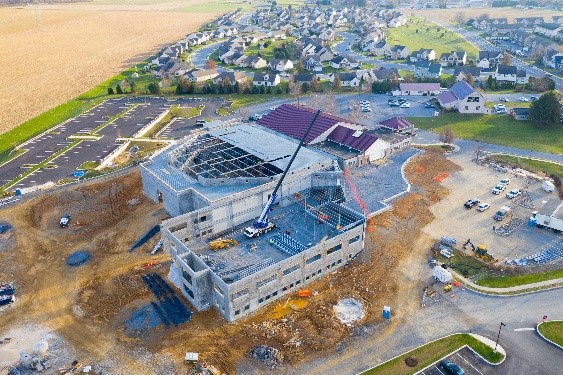 A good place to start your material selection process is to look at what your building plans require. Material performance, engineering requirements, and building codes can all narrow your selection.
Performance
In some cases, the design of your building will require certain materials. Engineering requirements may stipulate that the building material has specific structural, mechanical, thermal, and chemical properties. For example, if your project has several stories, you may be required to use reinforced steel or concrete in order to support the structure's weight. Your engineering and design team's insight is vital here.
Building Codes
There may be specific building codes in your state or municipality that will impact your material selection. Depending on your location, there could be codes requiring your materials and the building to be able to bear heavy winds, flooding, or earthquakes. These will vary with location, but your design and construction teams should be able to guide you through this process.
Weigh Your Options
Once you're familiar with the engineering and code requirements of the project, you should take a look at the specific options.
What's Available?
Whether due to supply chain woes or increased demand, there may be certain items that are unavailable. The availability of hard-to-source materials and fixtures will vary with time and location, but talking to industry reps should give you an idea of what to expect. If your fixtures are backordered for several months and you have a tight schedule, you may need to choose another option.
Customer Service
Take time to evaluate the type of customer service different material suppliers offer. you find online reviews from past customers, or do they offer any case studies with reputable partners? You'll want to buy from a supplier that can deliver the right materials on time. And if there are any issues, they should be there to make them right.
The Building's Function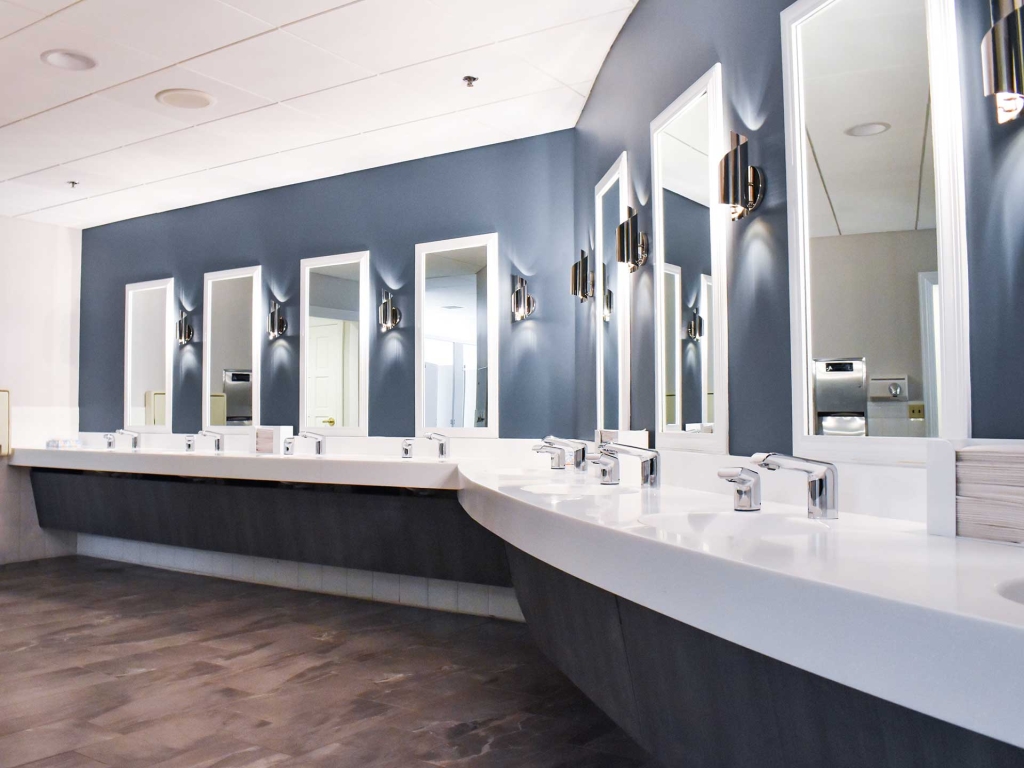 How you and others plan to use the new space should have an impact on the type of materials, fixtures, and finishes you choose. You want to be sure you're investing in pieces that not only suit the space visually, but that support the needs of the building's future inhabitants.
Traffic & Usage
Take time to consider how your space is going to be used. You should pick finishes and materials that support the area's function. For example, high-traffic hallways may do best with materials that are resistant to scratches and stains, like tile, stone, or concrete.
Buildings that house sensitive electronic equipment may use copper and aluminum due to its ability to resist electromagnetic interference. The special conditions and material requirements are endless, but a good project team should be able to guide you through this.
Aesthetics
The materials and design of your building can convey a lot of information to visitors and its inhabitants. Trendy finishes can make a building feel fresh, new, and exciting, whereas classic finishes can make a building feel timeless and elegant.
Spending time in spaces that utilize simple, plain materials provides a different experience than those with more ornate or high-end finishes. While neither is better or worse, the selection of materials helps define and shape the experience of those who enter your building. Think about how you'd like your building to come across, and work with your design team to find a way to achieve it while staying within budget.
Environment & Location
The location and its environment can have a significant impact on the types of construction materials and finishes you use. By considering these factors, you can choose items that will create a long-lasting and suitable space.
Climate
When selecting your materials, consider the typical year-round climate. Think about how things like sun, rain, temperature, wind, storms, snow, and flooding might impact your building. Salty ocean breezes can fast-track erosion, and intense sun can shorten specific materials' lifespan. If the environment is humid, you may want to opt for things made from mold-resistant materials like vinyl and fiberglass.
For inspiration, take a look at what other buildings in your area are made from — especially the old, long-lasting ones. If these materials performed well over time, they might be a good option for you. That said, building materials have significantly evolved over the past decades, and there could now be a better or more affordable option.
Location
It's also worth considering the location of your building. If your project is in a remote area far from major roads, the cost and availability of certain materials could be affected by the distance and transportation infrastructure. You might also draw influence from the surrounding environment. In more developed locations, you might choose materials that complement the surrounding buildings, or that maintain the historical or cultural heritage of the area.
Your Budget & Total Lifecycle Cost
For many construction projects, cost is king. Most projects will use cost as grounds for selecting materials, fixtures, and finishes. And while staying on budget is key, it is crucial to look at the big picture as well.
Upfront Cost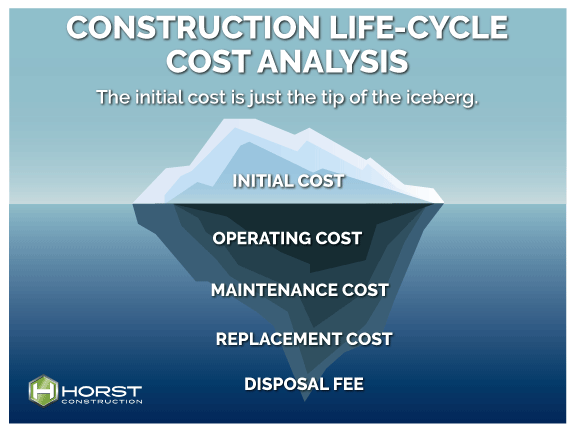 In many instances, the cost it will take to initially purchase and install the materials will be a major factor. It's your team's job to not only stay within and honor your budget but also enhance its value. That means coming up with ways to get more for your money.
Learn more: how to use the value engineering process to enhance your project.
Total Lifecycle Cost
It's important to remember that the upfront costs are just the beginning. You also need to consider all the other costs that the materials require in their lifetime. Consider what each material requires in terms of maintenance, disposal, and replacement. If these costs are high, or if the items need to be replaced regularly, what was once a money-saving decision can cost a lot in the long run.
Learn more: total lifecycle cost and its role in value engineering.
Sustainability
It's worth considering sustainability when selecting your materials. Customers increasingly prefer to patronize companies and brands that take actions to measurably reduce their impact on the environment. A Nielsen Global Study on Corporate Social Responsibility found that 66% of global consumers and 73% of millennials are willing to pay more for sustainable brands. Additionally, the same survey found that sustainable brands grow more quickly than their conventional counterparts with a growth rate of 4% versus 1.7%[i].
Additionally, sustainable materials, fixtures, and finishes promote energy efficiency that can help save you money. These include items like low-flow plumbing fixtures, drought-resistant landscaping, low-E glass, white roofs, and efficient lighting.
Seek Insight from the Experts on Your Team
There's seemingly no end to the variables one must consider when choosing materials, fixtures, and finishes for a construction project. That's why you need a team of professionals in your corner, eager to help you make the best decisions.
From architects to engineers to contractors, each firm contributes unique information specific to its area of expertise. The key to success is bringing them on board early and encouraging collaboration at every stage.
This setup is inherent in the design-build project delivery method. It prioritizes the needs of the owner by establishing a collaborative environment from the beginning. Each individual firm is united towards the same goal, as success will be measured as a whole — not in separate parts dictated by their discipline. Overall, this helps you make better material selections for your construction project.
To learn more about the design-build approach, check out this blog. 
[i] https://www.forbes.com/sites/sarahlandrum/2017/03/17/millennials-driving-brands-to-practice-socially-responsible-marketing/?sh=6ef48f704990
Posted March 03, 2023