6 Ways Your Brick-and-Mortar Store Can Compete With Online Shopping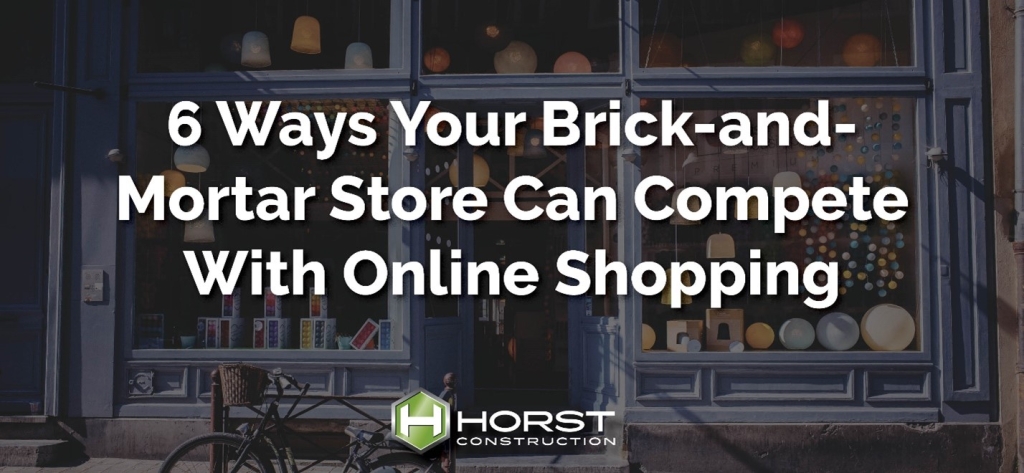 If you own or manage a retail store with a physical location, you're familiar with the growing threat that is online retail. This threat greatly intensified in the wake of COVID-19. Headlines share shocking statistics about the rapid increase in purchases made online. And as retail giants like Sears and Toys "R" Us close, some economists warn of the coming "retail apocalypse," suggesting the days of shopping in physical stores are drawing to a close.
But that isn't the case.
Even in our post-pandemic world, the majority of purchases are made offline. In 2022, 83.9% of US retail sales happened in stores [i]. The brick-and-mortar retail industry isn't dying. It's simply changing.
Here are six ways your business can keep up with these changes and compete against online retailers.
1. Hire, Invest In, and Train the Best Customer Service Team
Savvy businesses know how to turn a competitor's weakness into its own strength. One of online retailers' biggest weaknesses is the lack of human interaction in their sales process. Most digital transactions require you to click some buttons, pay for your item, and the package shows up at your door in a few days. There's rarely someone to talk to if you have an issue or a question.
Brick-and-mortar stores are completely different. Your team will interact with your customers on the sales floor and at the register. In some cases, they can develop a rapport with regulars. This human element can strengthen the connection your customers have with your brand.
Take the time to vet people with great customer service skills. Hire people that embody your store's brand and values and invest in customer service training to keep developing their skills.
2. Use Data to Personalize Customers' Experiences
Even the world's best customer service rep or salesperson can become more effective with the proper tools. And in our current age of tech-driven marketing, one of the most powerful tools is information. The right data allows you to provide personalized experiences to your customers, and that's exactly what they want.
One study found that 80% of customers are more likely to do business with a company if they personalize their offerings, and 90% of people say a personalized experience is more appealing [ii].
Think critically about what sort of information you should track, and what is the best way to track it. A popular way to manage this is by setting up a loyalty program. Each time your customer makes a purchase and uses their loyalty account, you can track the products they buy and have their salesperson make notes from their interaction. You can then use this information to personalize offers, coupons, emails, digital ads, and marketing efforts.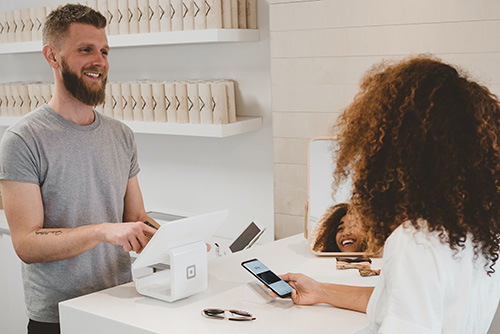 If used properly, their buyer profile can also arm your salesforce with relevant talking points, helping them make relevant suggestions for products the next time the customer visits your store.
However, be cautious with how you apply this. There is a thin line between ethical data-based marketing that enhances the customer's experience and knowing too much or coming across as creepy. The best way to manage this is to ask yourself if the information you're collecting helps provide a better experience for your customer and if you'd feel comfortable if a business collected the same information about you.
3. Empower Your Employees to Delight Your Customers
Love 'em or hate 'em, one thing Whole Foods does right is customer service. And one of the core tenants of their success is their belief that sometimes, it's better to ask for forgiveness rather than permission – especially when it comes to customer service [iii].
That means each employee is empowered to make decisions that they feel are the best for the customer in the moment. Did a customer order a vanilla cake and instead got a chocolate cake? The bakery clerk can decide to give them the chocolate cake for free, without seeking approval from their supervisor.
This allows for quick decision-making that prioritizes the customers' happiness. While replacing a cake for free may seem like a good way to lose money, you're creating a loyal customer who may spread the word of their remarkable experience to friends and family. Not only is that great word-of-mouth advertising, but it's also better than losing a customer over a poorly handled situation.
While not all businesses have coffers like Whole Foods and the ability to absorb the costs of comped items, try and apply the same spirit in your business as much as possible.
How your employees handle tricky situations is one of the most important steps to keeping your customers happy and your business a success. Don't let red tape and the fear of getting in trouble stop them from doing the right thing.
4. Enhance Your In-Store Experience with a Strong Digital Presence
Digital brands have nearly continuous access to their customers, whether it's a post on Facebook or a digital point-of-sale ad.
If customers can engage with a brand without having to make a purchase, it builds loyalty and a sense of community. Don't let your customer's interaction with your brand end when they walk out of your store. Utilize digital marketing to stay in touch.
Be sure to make information on visiting your store clear and easy to find. This includes things like your store's contact information, address, and answers to common questions, like what items you sell, what parking is like, and your store hours. A well-managed Google Business profile can take care of most of these things, and it also provides a spot for customers to read and leave reviews (and it's free)!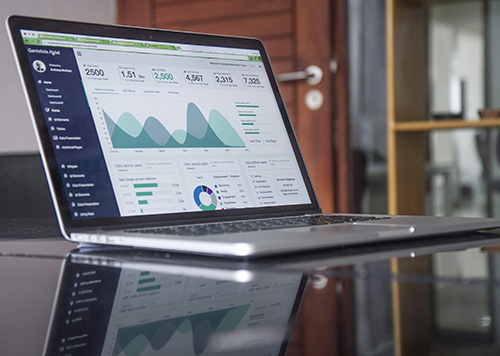 81% of customers do online research before making a purchase [iv]. Wouldn't it be great if they found your information when doing that research? If you want to take it up a notch, dive into content and social media marketing. Start a blog that answers common questions about your products. Give that content a boost by sharing it and other updates on social media. Reach new customers and retarget past customers by running digital ads.
These can all be relatively inexpensive and offer enhanced targeting and tracking features so you can control who the ad reaches. Digital marketing is also much easier to track than traditional channels, making it easier to calculate your ROI.
5. Attract Customers to Your Store by Offering Experiences
One of the most important questions to ask about your brick-and-mortar store is why would a customer come to your store to buy a product they could otherwise purchase from the comfort of their couch. Don't despair – there are plenty of compelling answers.
First and foremost, we talked about the importance of providing exceptional customer service beyond what online retailers can offer. For some stores, that's enough. For others, adding a little excitement can help draw in even more customers. Think about your store as an experience – not just a place people can come to buy stuff.
One way to create an in-store experience is to host relevant workshops. And as we shake off the dust from the past few years of social distancing, many people are eager and excited to connect with their community once again.
If you sell kitchen gadgets, host a cooking class. If you sell and service technology, offer a how-to session for a popular piece of software. Depending on the type of materials needed to conduct the workshop, these can either be free events or ticketed events.
You can put on community events or an open house, offering snacks, live music, or a meet-and-greet with a local celebrity. Partner with a local charity or non-profit for a night and donate a certain percentage of sales. Raffle off some of your most popular items or hold a contest where winners get fun, free items.
The options are endless, but be sure it's something your customers will be interested in.
Creating these fun and shareable experiences will help you engage with your local community and spread the news about your store – and that's not something online retailers can easily do. You'll be getting more people into your store, giving them a chance to buy some of the great products you offer.
6. Create the Right Environment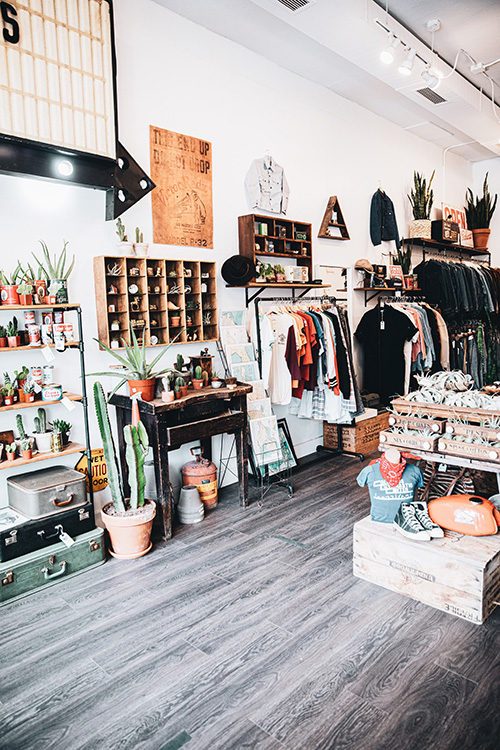 Another important consideration is the overall aesthetic of your store (inside and outside). Though comprised of seemingly small elements like finishes, décor, color pallet, lighting, and even smell, there have been multiple studies that suggest these can increase the number of people that come into your store and the amount of money they spend [v].
Attract and keep customers in your store longer with a welcoming and functional environment. Think critically about where you place certain items. Does it make more sense to place the popular items in the front or back of the store? Where should your register go? Are your isles easy to navigate and are similar products grouped closely together? Should you place small-ticket items near the register for your customer to browse while waiting in line
When it comes to the physical layout and look of your store, there is an infinite number of variables to consider. At Horst Construction, we've helped hundreds of businesses big and small optimize their space. If you're looking to give your brick-and-mortar store a boost, we have the experience to create a space that will help keep your store thriving.
Whether you're looking to do a small fit-out, renovation, or build a new facility, our Retail Renovation Guide has all you need to know about updating your store. Download it today!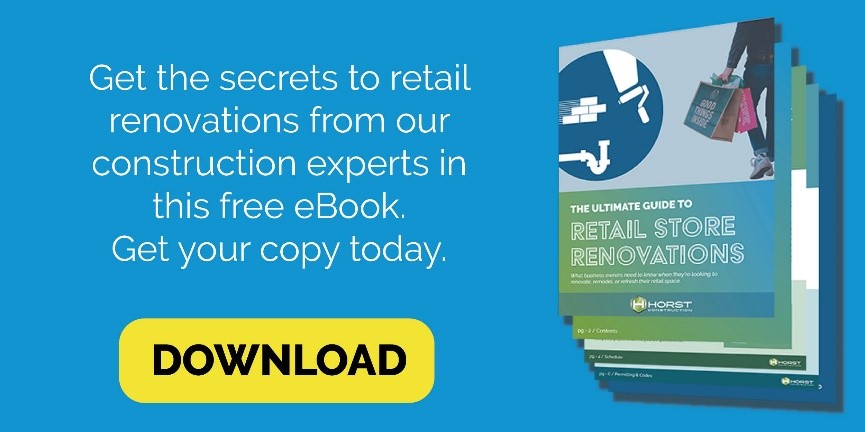 Sources:
[i] https://www.statista.com/statistics/534123/e-commerce-share-of-retail-sales-worldwide/
[ii] https://us.epsilon.com/pressroom/new-epsilon-research-indicates-80-of-consumers-are-more-likely-to-make-a-purchase-when-brands-offer-personalized-experiences
[iii] https://www.wholefoodsmarket.com/mission-values/leadership-principles
[iv] https://minewhat.com/blog/motivate-shoppers-who-research-online-to-buy/
[v] https://smallbiztrends.com/2019/12/store-layout.html
Posted February 13, 2023