3R Team: Renovate – Remodel – Refresh®
We understand that not all construction projects have a huge budget or footprint. Furthermore, we acknowledge that for many organizations a need exists for ongoing renovation or remodeling work to refresh their facilities. Many of these projects require a special expertise that knows how to work safely and efficiently within occupied facilities – some that even need specializing planning to minimize the impact of construction so business can continue to proceed throughout a project's duration.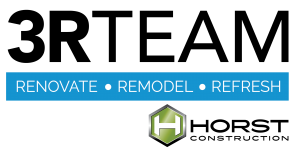 Recognizing this need and wanting to support our clients, Horst Construction created the 3R Team® to specialize in these projects specifically. The needs of renovation, remodeling, and refresh projects are different and we employ a team of individuals whose area of expertise is focused on expertly managing your project so your building's operations can continue with maximum efficiency and minimal disruption.
Our 3R Team® focuses on capital improvement projects that necessitate quality workmanship, superb project management, and timely completion. Some examples may include tenant fit-outs, ADA renovations, repurposing spaces, office renovations, branch remodeling, or technology and communication upgrades.
Regardless of the project's size, clients depend on our professionalism, attention to detail, and work ethic. Delivering these values has earned us repeat business with a variety of clients requiring special construction services.

SAFETY
Our strict safety procedures don't just protect the construction team. We prioritize your customers, employees, residents, guests, patients, and everyone nearby for a safe construction process in any occupied space.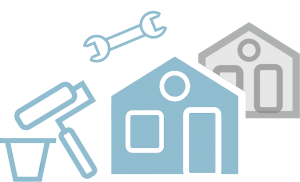 EXPERIENCE
We're experts at construction projects in occupied and fully operational sites, such as senior living communities, 24-hour convenience stores, and office buildings. We know how to minimize disruptions and keep the public safe.

EFFICIENCY
You shouldn't have to stop your job so we can do ours. With streamlined project management, effective planning, and project staging, we work around your operations for a construction renovation without disruptions.
Project Experience
The 3R Team® has a diverse and varied portfolio, having developed expertise in several industries. Below are examples of some of their recent projects.