7 Things to Look For in a Preconstruction Partner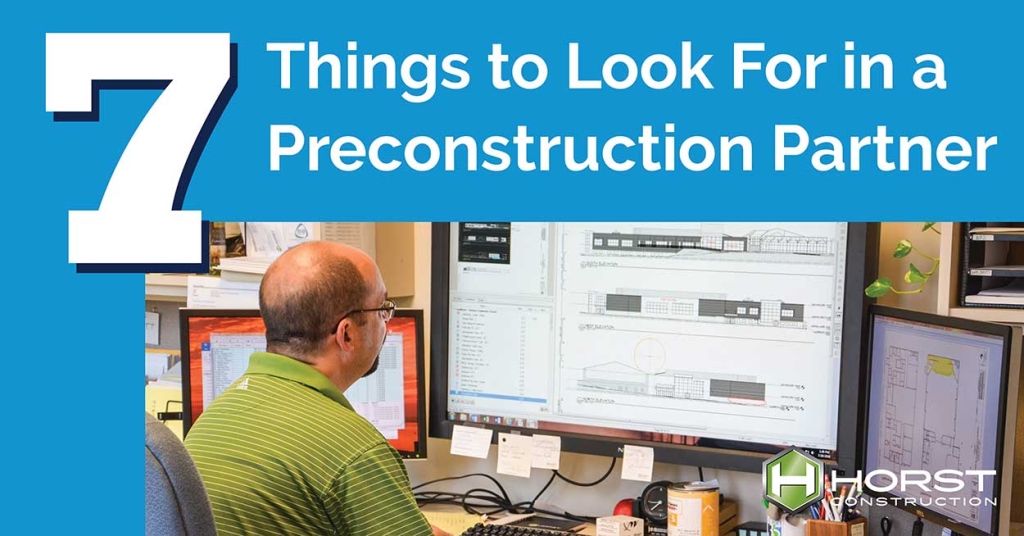 When choosing a team for a construction project, much of the focus is placed on their ability to manage the construction phase. With boots on the ground and hammers to nails, there's no arguing that having a capable team during this stage is essential. However, success in the construction phase is dependent on what comes before: the preconstruction phase.
A good construction partner will dedicate time and resources to creating the foundation of your project through a comprehensive preconstruction process. How can you tell if a construction firm can deliver on this? We've compiled a list of 7 things essential in a preconstruction partner to set your project up for success.
Understands the Client's Needs
First and foremost, seek out a construction team that takes the time to learn what's important to you. They should ask questions and gather the information that will help them understand your requirements and constraints. Once these become clear, they should be at the center of the entire project planning process.
At Horst Construction, we make understanding your project our priority. While constructability reviews, scheduling, and project procurement are all extremely important, we can complete these tasks better once we understand your vision for the project.
Foster a Collaborative Environment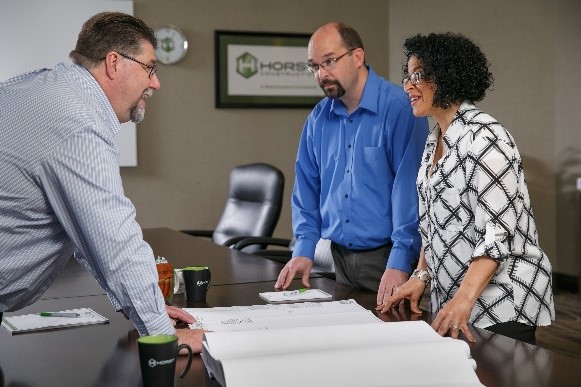 Construction projects of all sizes and scopes benefit from collaboration between each team involved. A construction firm that values teamwork will help to create an environment where each firm is encouraged to add its expertise to the preconstruction process. With input from a wide range of relevant specialists, issues can be sorted out during the planning process, instead of during construction. This can help avoid added expenses and extended schedules.
At Horst Construction, we have extensive experience with the design-build project approach, where this level of collaboration is inherent. However, collaboration is a big part of who we are as a company, and we bring this approach to all our projects, regardless of delivery method.
Read this blog to discover the pros and cons of each popular construction delivery method.
Dedicated to Cost Certainty & Optimizing Budget
Good decisions are made with good data. And good data is essential to the estimating and pricing process. You'll need an estimating team that can give accurate pricing information by thoroughly analyzing the design team's drawings. They should provide an estimate that is detailed and organized with well-defined and quantified line items.
Once you have this type of estimate to review, you'll be able to make informed decisions about your project's specifics. You and your project team can then begin to identify value engineering opportunities that enhance your project.
At Horst Construction, our team of estimators has the tools and experience needed to create a highly accurate estimate. They use a detailed cost database composed of historical, real-world data from our service area to create detailed and accurate estimates. From the start, we work with our clients, anticipating and preparing for their needs in advance. We'll continuously look for value engineering opportunities, and we'll keep track of each budgeting change, so information is never lost during the process.
Throughout this process, we'll stick to your budget while presenting best-value recommendations wherever possible.
What's the true meaning of value engineering? Check out this blog to find out.
Adopts Open-Book Principles
Some construction firms may be wary of sharing certain preconstruction information with their clients. This proprietary information can give competitors an unfair edge if it falls into the wrong hands. However, that should never get in the way of sharing helpful and useful information with the client.
We embrace an open-book culture at Horst Construction. We share preconstruction information, estimates, and subcontractor costing with you to help you make the most informed decisions for your organization.
Optimizes Phasing & Logistics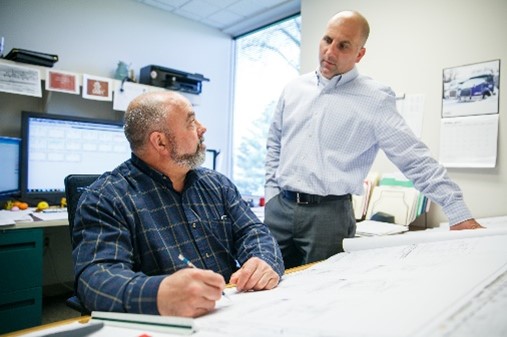 Phasing and logistics plans play an integral role in preconstruction, from helping with the development of estimates to ensuring the project's constructability. With the right team at the helm, they'll minimize the likelihood of issues and delays during the construction phase of the project, creating a more efficient and safer project. It can even help reduce change orders caused by the scope, oversights, or errors.
Your team should look collectively at design documents and the intricacies of the site and surrounding infrastructure, as well as consideration for the current building climate and the needs of the client. With all this information gathered, they can effectively create phasing and logistics plans for an efficient project.
At Horst Construction, none of the information and planning will be lost during the switchover from preconstruction to construction. Your preconstruction team will transition to become your construction team. They'll use their years of experience working on similar projects to create a relevant plan for your project. And once the preconstruction phase is over, they'll be the ones responsible for implementing it.
Assembles a Qualified Team
Subcontractors and suppliers have a significant influence the trajectory of a project. While it can be tempting to go with the lowest-cost option, that isn't always the best choice. Instead, your construction team should bring on firms that offer great value without sacrificing quality.
Horst Construction prequalifies its subcontractors before choosing them for a project. Our process includes reviewing their financial information, references, safety performance, experience, and workload. These will help us evaluate whether they'll be effective partners for your project.
In line with our open-book policy, you can be as involved in the selection of the subcontractors as you'd like. We're happy to give you the reigns, or we're happy to take care of it for you entirely — whichever works best for you.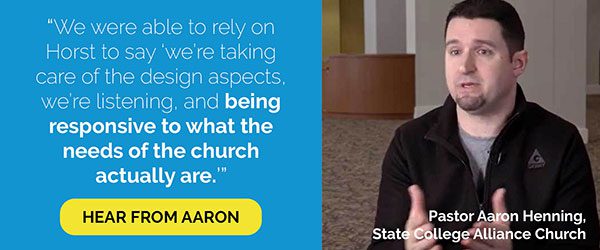 Puts the Client's Best Interest First
The previous six characteristics culminate in one thing: putting the best interest of the client first. When you have a project team that understands your goals and does everything in its power to work on behalf of your best interest, everything else will fall into place.
At Horst Construction, we begin a project by listening to your needs and working to understand your project's vision. From there, we'll continue to act in your best interest through every stage of the project.
If you're starting a construction project and are looking for an effective firm to carry you through preconstruction through completion, reach out to us to tell us about your project.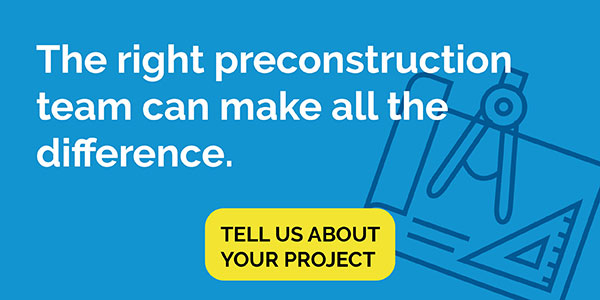 Posted October 18, 2022