Building for the Future of Multifamily: Key Considerations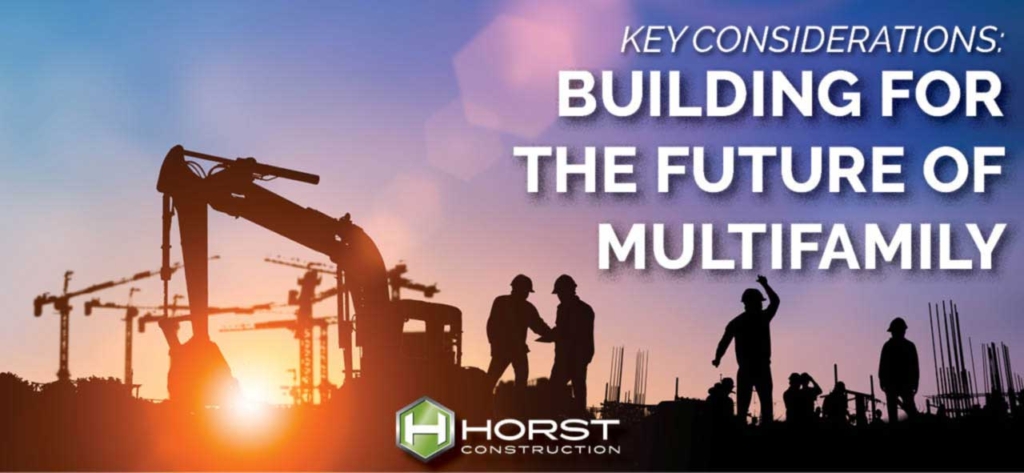 With shifting demographics, economic fluctuations, and a renewed focus on intentional and sustainable living, developers face new hurdles that challenge them to be more strategic than ever.
At Horst Construction, we're at the forefront of this evolution, ensuring our clients stay ahead of the curve. Here are some key considerations for multifamily development that will help you ensure future success as you continue building your real estate portfolio.
1. Sustainability
The modern renter is environmentally conscious and makes choices that align with their eco-friendly values[i]. With the rising demand for eco-friendly homes, integrating green technologies and sustainable materials isn't just a trend — it's becoming a decisive factor. Tenants will be looking for these amenities, and if you're able to provide them at a reasonable price, it'll give your property an edge.
These can include solar panels, green roofs, energy-efficient appliances, and sustainable and recycled building materials and finishes. The added bonus? While many of these sustainable features may cost slightly more upfront, they can significantly reduce operating costs down the road, leading to better margins in the long run.
2. Community Amenities
The definition of "home" has undergone a shift in the past few years, expanding beyond the confines of one's own four walls. As we all search for new ways to reconnect with our communities, residents are looking for complexes that make this possible.
Shared amenities and spaces like fitness centers, communal lounges, pet parks, rooftop gardens, and even coworking spaces give residents a space to create community-driven lifestyles.
3. Location
The importance of strategic positioning can't be understated. Proximity to essential services, transportation hubs, schools, and recreation areas add immense value, making everyday life for your tenants more convenient. Moreover, developments that work to integrate with their surrounding community, enhancing the local landscapes and providing sought-after amenities can thrive.
In a more macro sense, consider the economic climate and trends in your given area. Are you working on expanding into a burgeoning city with growing industries that attract young professionals? This demographic leans heavily into the rental market. Or are you working in a more developed or remote area with limited options? The economic climate of the specific city will impact the demographic of the rental market, and furthermore, the type of amenities and features renters are looking for.
4. Security, Smart Devices, & Digital Integration
The future (and the present, for that matter) is digital. As the digital-native generations enter into the rental market, these tech-savvy denizens are looking for high-speed internet, smart home capabilities, and integrated tech solutions. Whether it's voice-activated systems or IoT-enabled appliances, ensuring homes are tech-ready ensures your development will stay relevant for years to come.
These trends extend to security. In today's age, safety transcends physical measures. Integrating smart security systems, from surveillance cameras to advanced fire detection and suppression systems, is essential.
At Horst Construction, we practice what we preach. Learn about the construction technology innovations we utilize on each of our projects to ensure a better-connected and more efficient project approach.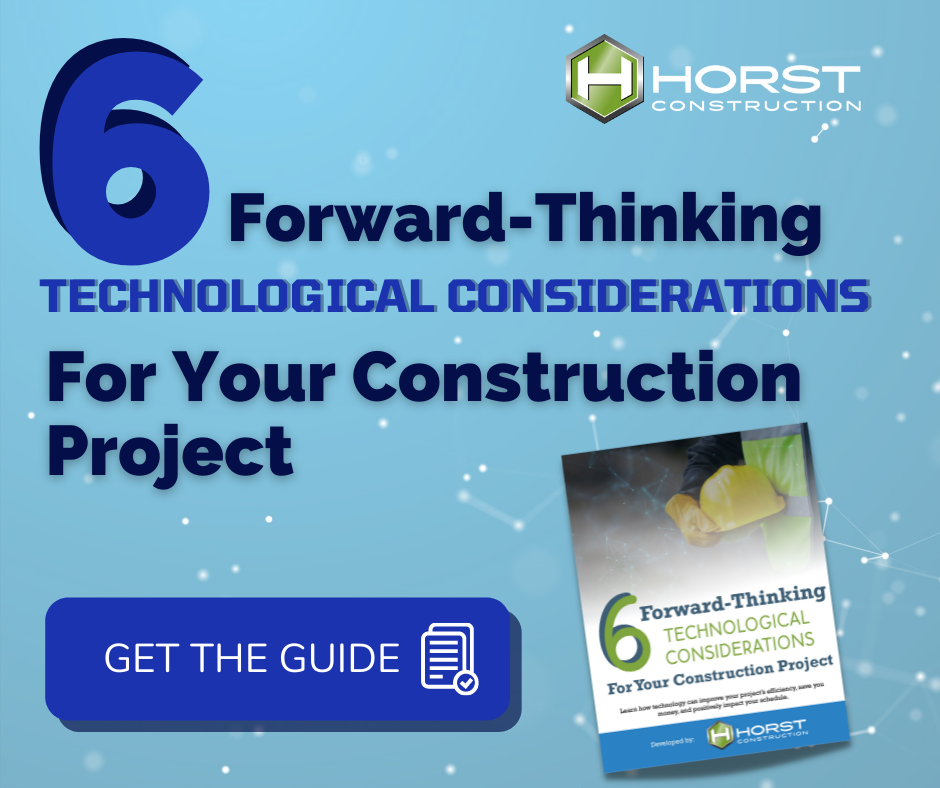 5. Affordability & Value
Creating luxury apartments is an art, but balancing quality with affordability is a mastery. The challenge lies in delivering in-demand amenities and finishes while ensuring rent remains accessible to a broad audience.
At Horst Construction, the goal of our preconstruction and value engineering processes' is to help you do exactly this. With thoughtful and creative suggestions, we can help you optimize the value of your development, striking your ideal balance of cost and quality, as well as navigating rising material prices. This in turn allows you to deliver the best value to your future tenants.
6. Feedback
It may be cliché, but it still rings true: knowledge is power. When it comes to what tenants are looking for in a living space, no one knows better than them. The most successful developers are those that resonate with the market.
Engage with potential and current tenants and ask for their feedback. This can help you make decisions in the future to ensure your buildings align with what renters in the community are looking for and value.
Start Building the Future Today
The multifamily development landscape is brimming with potential, awaiting developers to shape its future. And while that's a tall order, having the right construction firm in your corner can pay off in spades.
With our vast experience and collaborative, relationship-based approach, we're ready to build the future. Partner with us, and let's craft tomorrow's communities today.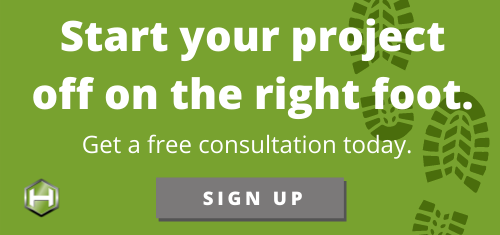 [i] https://cleantechnica.com/2023/02/07/new-survey-reveals-that-two-thirds-of-renters-want-green-energy-efficient-homes/
Posted September 21, 2023