Cheat Sheet for Optimizing Construction Budgets: 8 Tips from the Pros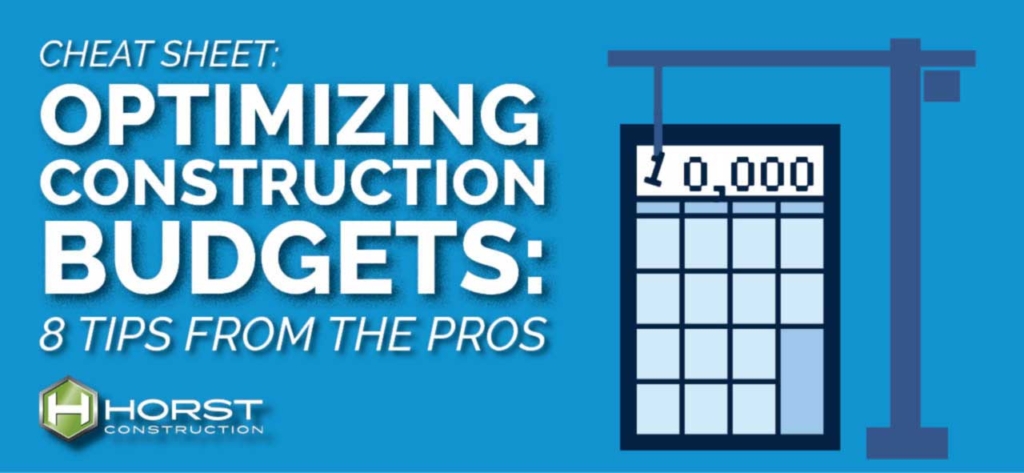 Staying on a budget without cutting corners in quality is a common concern for many clients. In today's economic climate, it's more important than ever to ensure you're doing the most you can with the resources you have.
For well over a century, the team at Horst Construction has been helping our clients do just that. We understand the challenges of budgeting a construction project, and we've developed an expertise in helping our clients make the most of what they have.
Here are eight of our insights and tips to help you optimize your budget for your next construction project.
1. Plan Meticulously and In Detail
The foundation of any successful project lies in detailed planning. This involves two major things:
A Clarified Scope: Getting really clear on the details of the project and the scope of work is key. This ensures synergy between your expectations and your contractor's interpretation. That helps your budget by avoiding potentially costly mid-project changes. Learn more about how to do this here.
Comprehensive Estimates: Ask for a detailed cost breakdown over a more general figure. This can help show where money is going and may even highlight areas for potential savings.
2. Assemble an Experienced Design-Build Team
Design-build continues to prove itself as the project delivery method of choice for budget-conscious clients. A study analyzing 350 construction projects revealed those that utilized design-build consistently cost less and finished sooner than projects that used design-bid-build and construction manager at risk[i].
The key to design-build's success is the team's structure. All the separate firms are contractually united under one shared goal: the success of the project as a whole. This leads to more collaboration, better ideas, more efficiency, and in turn, a better result for the owner.
When you're out to optimize your project's budget, the right design-build team can help get you there.
Learn more about design-build and how it can benefit your project.
3. Use Value Engineering to Its Full Advantage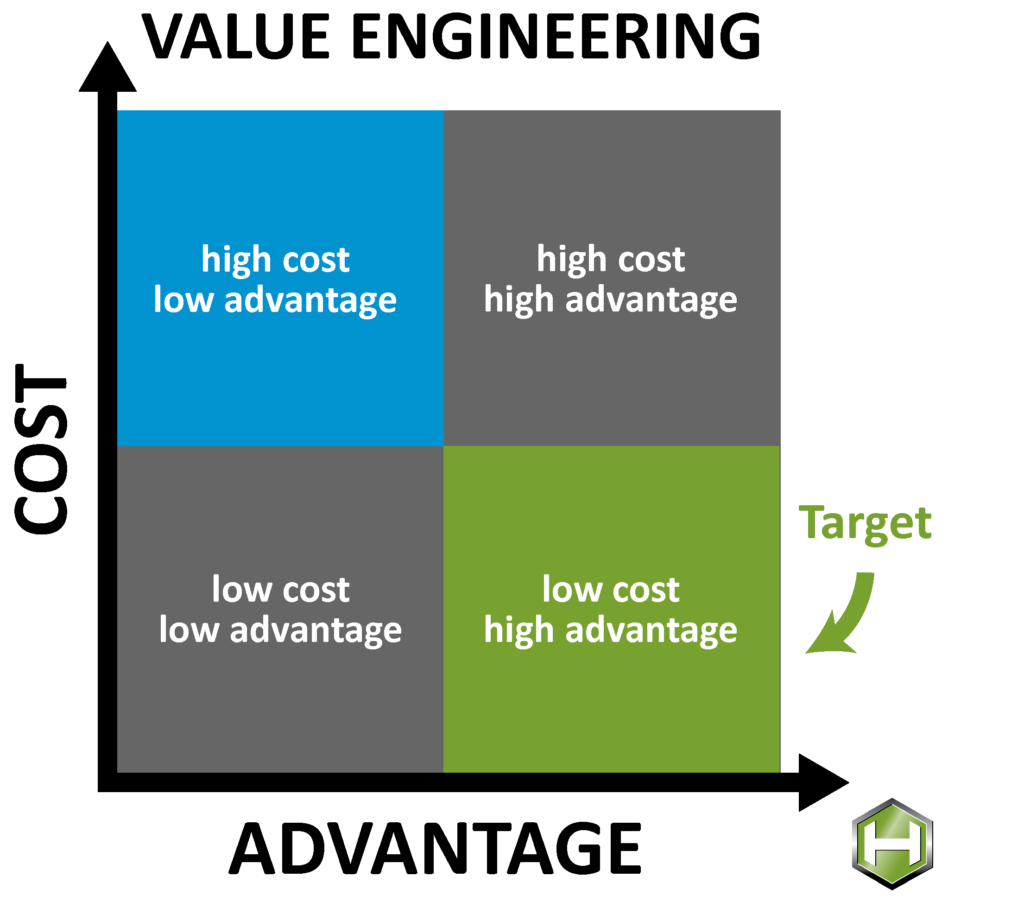 Value engineering isn't simply a cost-cutting exercise. Instead, it's the strategic analysis of how much benefit you're receiving from the money you're spending. If there's a way to enhance that value, it should be explored in value engineering. Your team should look to optimize the elements of the project through an analysis of all factors – cost, upkeep, wear-and-tear, aesthetic value, etc.
Coming up with effective value-engineering suggestions takes an experienced team open to out-of-the-box solutions. Horst Construction's value engineering team draws on the collective experience of seasoned construction professionals who are dedicated to being good stewards of your resources.
Learn more about value engineering here.
4. Regularly Review and Update the Budget
Circumstances and prices can change. Keeping tabs on your budget helps:
Address potential overflows in a timely manner, and
Make informed decisions as the project progresses.
Choosing a construction team that's committed to open-book finances is going to make this process a lot easier. At Horst Construction, our open-book policy gives owners access to all job cost reports and information related to the project.
5. Avoid or Reduce Change Orders
Change orders don't have the best reputation in the industry. While they're important tools to ensure your needs and vision are fulfilled, they can lead to extended schedules and additional costs. To optimize your resources, it's best to ensure your vision for the project is fully fleshed out before construction starts, and your team has a solid understanding of what it is. You can do this by:
Getting specific with the project scope,
Create a collaborative environment, and
Use design-build.
Learn more about change orders and how to reduce their impact on your project's budget here.
6. Leverage Technology
Modern construction management software can help you and your construction team track the budget, allocate resources, and manage time. Partnering with a construction firm committed to using technology to enhance their efficiency and communication can translate directly into savings and avoided costs.
To learn more about the latest construction technology, check out our report.
7. Consider Phasing
If your budget is low but your needs are immediate, consider phased construction. Breaking down your project into a few different phases can allow you to address immediate concerns with the budget you have available now. Then, as cash flows rebound, you can revisit the less-pressing updates later on. This approach allows for better cash flow management and can reduce the burden of a significant one-time expenditure.
There's a bonus to this approach. If your project entails renovating an existing or occupied area, phasing can help minimize construction interruptions, which could potentially allow your organization to go about business as normal.
8. Always Plan with Contingencies
No matter how experienced, careful, or collaborative your project team is, unforeseen conditions, challenges, and expenses can arise. Whether it's unexpected soil conditions, changing material costs, or something new, it's always a wise idea to have an owner's contingency fund. This can be a small percentage of your project's total cost, but it will help you avoid funding issues should something unexpected come up.
An experienced construction team can help advise you on how much should be set aside for contingencies.
Budgeting by the Best
Successful budget management in construction is a combination of effective planning, creative value engineering, collaboration, proper oversight, and working with a conscientious and experienced construction team.
At Horst Construction, we're committed to being good stewards of your resources, ensuring the project we create together fulfills your vision and meets your budget.
Tell us about your upcoming project, and one of our construction experts will get back to you.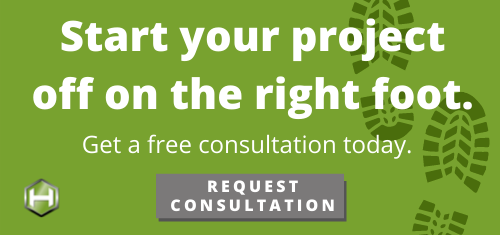 [i] https://www.construction-institute.org/resources/knowledgebase/project-phases/procurement/topics/rt-133
Posted September 21, 2023