If You Build It… They Will Come – and Use It!
Lebanon Area Evangelical Free Church (LAEFC) in Jonestown, PA has always been an active church offering community outreach programs to the Lebanon Area and beyond.  LAEFC used every inch of their available space to provide their services to the community and knew they could provide more if they expanded their facility.
In the fall of 2015, Horst Construction completed its 19,800-square-foot addition that included much-needed office space, meeting rooms, classrooms, a small gymnasium, showers, a multi-purpose room, kitchenettes and more!  The new addition is used daily as it was intended, but it's exciting how these rooms are also used as a tool to partner with local organizations to provide more support for the community.
Here are a few examples:
Emergency Shelter
LAEFC is now an approved Emergency Shelter offering quick response for those who need food, shelter and lodging during unexpected emergency situations. They can provide resources for up to 300 individuals. The newly-installed showers – along with their storage of supplies such as towels, blankets and toiletries – will provide much-needed comfort for those who use the shelter.  The sanctuary seating offers removable, padded chairs that when placed together can create beds for emergency shelter without the need to store cots/mattresses.  The church continues to seek donations of light-weight cotton blankets that are easily washable. They can never have too many!
J-Rock
Last month, the church sponsored a local mission trip called J-Rock. Hundreds of people donated their time to complete week-long community service projects including cleaning up Blackberry Street, improvements at Jonestown Park, and cleaning/organizing of the Jonestown JOY Pantry. The evening block parties provided community activities and a health fair. The new addition provided facilities that allowed participants to stay overnight at the church – and the perfect venue for a morning devotional prior to working in the community.
Helping the Homeless
LAEFC is working with Jubilee Ministries to develop a collaborative plan that will enable the homeless in the area to use some of the church facilities. This plan hasn't started yet, but stay tuned!
Community Outreach for Events
The new addition offers LAEFC the flexibility to schedule multiple community events within the church.  Several local non-profit organizations in the Lebanon Area hold their large fundraising banquets at the church thanks to their generous free donation of space, tables and chairs for the events.
Music in the Parks Venue
For several years, LAEFC has provided one of the venues for the National 'Music in the Parks' competition. The addition of the multipurpose space allows them to expand their outreach to include choral groups for the competition.
Community Work/Learning Space
An open area on the first floor of the addition became the perfect location for transitional work space for those who need the occasional office away from home or some guidance on using the computer to research jobs.
LAEFC has been listening and responding to how the Lord wants these spaces to be used to further good works in His name.
As a Design-Builder, it is so rewarding to bring LAEFC's vision to reality. We've witnessed a myriad of outreach possibilities as a result of their church addition and expansion and we look forward to the continued impact they will have on so many lives in the Lebanon area!  To learn more about LAEFC, check out their website by clicking here. To view the video slide show of their expansion, click here.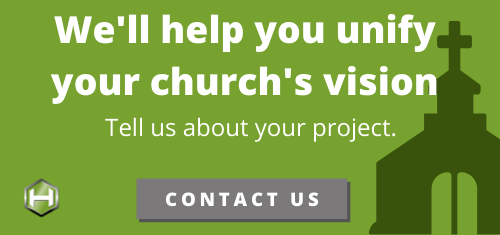 Posted July 06, 2016