March 2019 Project Roundup
A Snapshot of What's Keeping Horst Busy
It's been a while since we showcased all of the hard work our field and project management team members are doing, so we wanted to send out a project roundup. Here is a quick snapshot of just a few of the projects keeping Horst Construction busy these days!
Senior Living: Focus on Providence Place at the Collegeville Inn
Work continues to move along nicely at Providence Place, with an anticipated mid-May completion date. Our crews are currently focusing work on three main goals: exterior finishes, including siding, sidewalks and stone; resident room finishes such as trim, kitchens, doors and hardware, bathroom hardware, shower tiles, and fixtures; and finishes to common space areas including flooring, handrail, bathroom hardware, and fixtures. This project includes not only the 96,000 sf new construction but also the 39,000 sf renovation of the historic former Collegeville Inn. The finished facility will feature 113 apartments and will be the sixth senior living community for Providence Place.


---
Religious: Focus on Ephrata Community Church
The most recent drone photographs from Ephrata Community Church show just how big the project really is! This project features an 81,300 sf addition and a 15,400 sf renovation. Our team has been plugging away on this project and is on track for an April/May completion of the addition and September for the renovation to wrap up. This project, dubbed Vision 20/20 by the church, will add a 1,600 seat auditorium with mezzanine seating, new lobby, 15 classrooms, 20 offices, 2 large meeting rooms, a gathering space and cafe, welcome center and an indoor play area.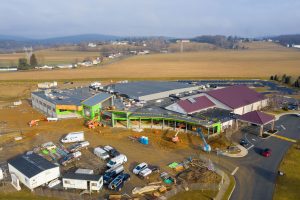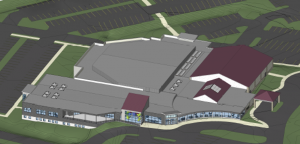 ---
Industrial: Focus on West Pharmaceuticals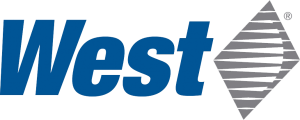 Long-time Horst client West Pharmaceuticals has contracted with Horst on two noteworthy projects recently. Located in Kinston, NC, the RU/Mezzanine project is in the early stages with descope meetings and subcontractor selection underway. The project will officially kick off in April and is scheduled for a January 2020 completion. Meanwhile, West's St. Pete, FL project is in full force, with phase two wrapping up in mid-May. Mechanical, electrical and plumbing contractors are running utilities to equipment locations, and both duct work and power are being run for new roof top units. The new Quality Assurance lab and offices are being framed and roughed in as well. This multi-phased project is anticipating a December completion for phase 3. Due to the proprietary nature of the work of our client, we will not be sharing photos for these projects.
---
We have been very blessed to have a busy and productive winter and are looking forward to spring! We have several upcoming major project milestones and monumental moments we look forward to celebrating with our clients. We continue to be grateful to our clients, partners, employees, and friends for being a part of the Horst Construction family.
Posted March 12, 2019