Maximizing Space Efficiency in Multifamily Construction Projects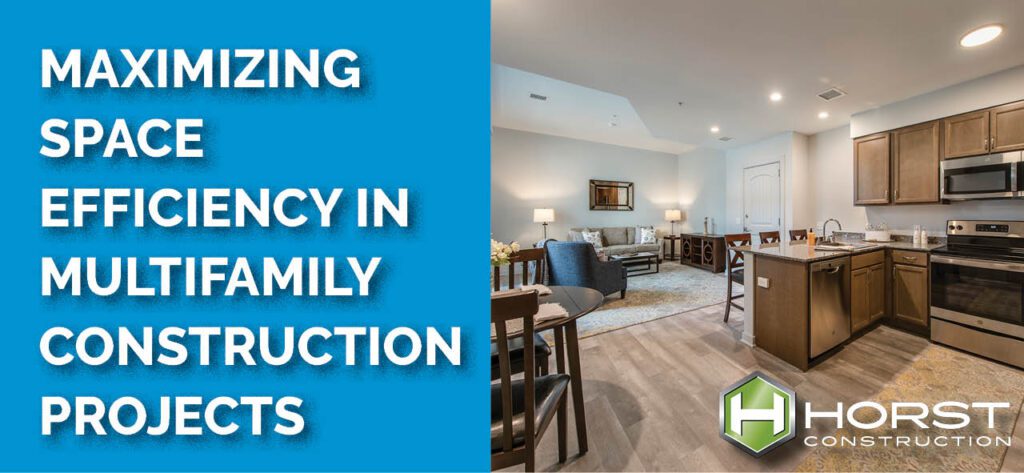 As a developer in the highly competitive multi-family housing market, optimizing your return on investment isn't as easy as it once was. Minimizing your net-to-gross ratio within a building becomes crucial. Every square foot that doesn't generate revenue represents a missed opportunity.
In this blog, we explore creative ideas and strategies for improving area and unit efficiency, allowing you to increase your bottom line and enhance the overall profitability of multi-family apartment buildings—while still creating attractive, wonderful places to live for your residents.
– Making Your Multi-Family Construction Project More Efficient
– Staying Competitive
– Considering Lifecycle Costs
– Finding the Right Construction Partner
Making Your Multi-Family Construction Project More Efficient
To optimize results, start with a design and preconstruction process that's homed in on using your available resources in the most efficient manner. It's important to approach your project with these goals in mind right from the start. While you can make changes as the project progresses, the cost of implementation will likely increase.
Reducing Common Space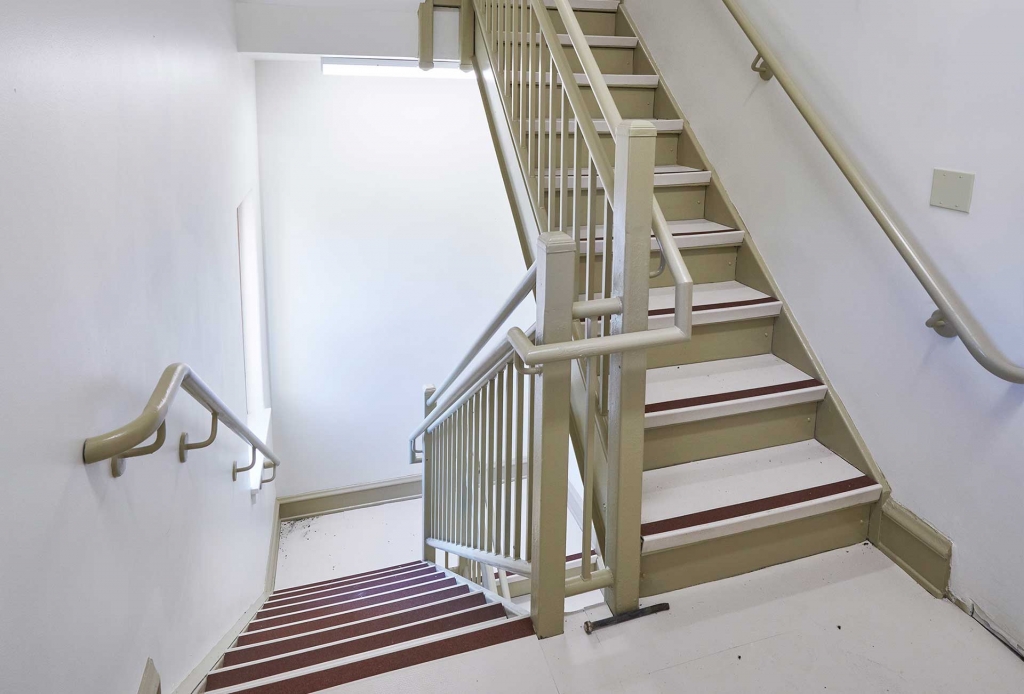 Corridors, elevators, and stairwells don't pay rent. Reducing these and other unnecessary non-revenue-generating spaces can decrease construction and operating costs. The space saved by reducing these elements can be transformed into additional units. Or it can go towards making each unit larger.
That said, cutting back too much of the access space can have a negative impact. Too few hallways or stairwells can make the building feel tight, constrained, and unsafe. If they're too narrow, moving in and out would be difficult for residents, leading to frequent repairs of bumps, dings, and scrapes.
Ask your design team early on what type of layouts you can integrate to reduce these types of spaces while still creating an attractive community.
Optimizing Amenity Space
Amenities can play a vital role in attracting tenants and creating a sense of community among your renters. That said, they're not rentable space, and they need to deliver a return for you.
One way to do this is to rethink how to use areas that otherwise would go underutilized. Not only are rooftop terraces and outdoor common areas popular, but they add additional value to what's already there. You can transform these spaces by adding communal gardens, outdoor lounges, or even small recreation areas.
Additionally, see what you can do to make parking the most efficient it can be. Traditional lots take up a lot of space and land. Depending on your specific site and its soil composition, tuck-under, cantilever, or over-excavation could be a good way to reduce land space lost for parking.
During this process, do what you can to minimize space that doesn't serve your facility. These could include cutting back on large lobbies, underused administrative and support areas, and storage space. While these typically utilize ground-floor-level space, which is traditionally less appealing to renters, it's still non-revenue-generating space. While you may charge less for units on the ground floor, less rent revenue per apartment is still better than no rent revenue for wasted space.
Streamlined Floor Plans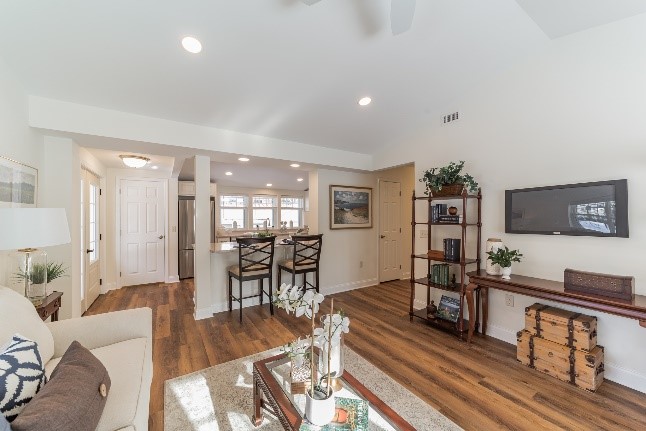 Common access areas aren't the only spaces that can benefit from smart, streamlined design. Ask your design team about how to optimize the space in your units.
Ideas can look like open-concept layouts and integrated storage space. Large windows, skylights, and taller ceilings can make smaller spaces feel roomier and more inviting. The use of proxemics (using finishes or other low-profile markers to separate spaces) can reduce interior walls and keep things open.
Staying Competitive
The ideas listed above can be a great way to build a more efficient apartment complex. Cutting out wasteful spending in a construction project is better for you and your residents. But cutting out too much can make staying competitive difficult.
To strike the balance, here are a few tips and trends that can keep your multi-family building in demand with renters in your area.
Smart Home Devices
Smart home devices are becoming a big selling point for prospective renters. Renters have expressed that technology that enhances convenience tops their lists for what they most want in a unit.
While the type of devices you choose to install will vary based on the type of tenant you're developing for, there are plenty of options. Smart locks, lights, and thermostats can be managed by your tenants remotely, improving convenience and efficiency. This also gives your community managers and maintenance teams more efficient access to adjust lights and temperature controls in vacant units. Smart locks can also eliminate the need to replace locks when a unit turns over.
Attractive Amenities
When creating a new apartment building or multi-family community, get strategic about the amenities and community space you offer. It's tempting to check off the usual list: gyms, general recreation areas, a pool, etc. But how often do your tenants truly use these things?
The way many of us live, work, shop, and socialize has changed quite a bit in the past few decades. Are there new amenities that would offer more value to your tenants? Some options rising to meet our current lifestyle include enhanced mailboxes to accommodate online shopping deliveries, comfortable outdoor areas, pet-friendly spaces, and good parking.
Great Design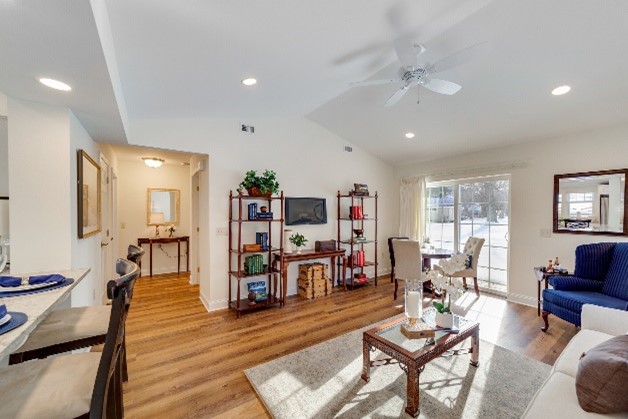 Good interior and exterior design speak for themselves, and they can go a long way in attracting residents. Integrating the latest trends can get future tenants excited about living in your building. That said, leaning too heavily on current trends can leave your building feeling dated rather quickly. To keep your investment looking attractive and fresh longer, opt for classic designs and finishes that outlast the ever-shortening trend cycles.
Considering Lifecycle Cost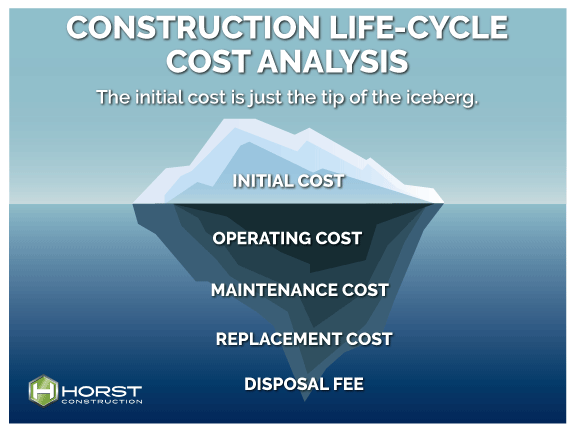 While we understand the benefits of keeping construction costs as low as possible, making decisions that only consider the immediate, short-term costs can end up hurting your return on investment in the long term.
Sometimes, the cheapest option on installation day ends up costing the most in the long run. When you're evaluating prices, it's important to consider the total lifecycle costs of every option. This goes beyond the cost to install the item, considering how much it will cost you to operate, maintain, remove, and replace.
Click here to learn more about life-cycle cost and how it impacts your project.
Finding the Right Construction Partner
The right construction team can make all the difference as you're planning and creating an efficient multi-family building.
A team with the right experience is a huge first step. But you'll also need a team that listens and understands your vision for the project. With that approach, they'll be able to make value engineering recommendations that truly bring value to your project.
Learn how Horst Construction can help you optimize your project.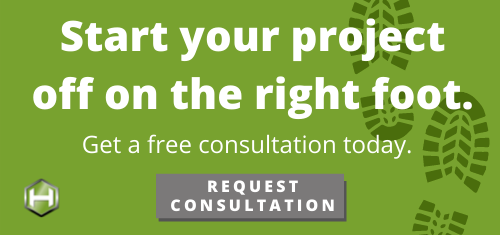 Posted July 14, 2023