Beyond Education: One School's Journey with Great Leadership

New Covenant Christian School Scores Big Under the Leadership of James Hubbard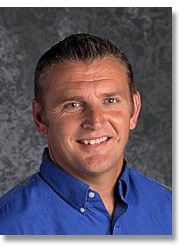 James Hubbard, a Brit by birth, came to the U.S. in the late 1980s under a basketball scholarship.
At the time, he thought he would return to the U.K. after graduation, but his faith took him
in another direction. After transferring to Messiah College where he majored in Exercise
Physiology, his journey took him to Kutztown University as Assistant Provost, and eventually to
New Covenant Christian School, where he now serves as its Principal.
---
As an active participant in the Lebanon community, James was also on the Board at Lebanon Free Church, where he initially met the Horst team when they were proposing new construction for the Church.
According to James, "The qualities that stood out most about Horst were personality, knowledge of other churches, their many satisfied customers, and experiencing their complete commitment to the project. It was a much deeper relationship than I would have expected to have with a construction firm. Since the church was completed about two years ago, I've continued to build my relationship with the Horst team and over time have developed an even deeper trust."
"Our school's goal is to make an impact on the world.
The building is not just a building; it's about what happens in the building, in our community,
and our future impact on society."
–James Hubbard, Principal
Later, when New Covenant Christian School was ready to plan a major expansion, there was no question as to who would be included in the shortlist. With a recent addition of about 100 students, it was time to work on some initial drawings and plan for a new building, as well as begin the associated fundraising activities. James approached his Board and vetted several companies, ultimately selecting Horst for the project.
The project entails designing a separate building that will be linked by an enclosed hallway so that students and faculty can easily move between the buildings. The addition will include a PIAA athletic facility, science lab, conference room, and academic classroom spaces.
James continues with his excitement about the expansion, "We're serving the needs of families who may not be getting the most from the public education system. As a Christian school, we certainly attract strong faith-based families and educators. We feel that small class sizes, a strong sense of community, and high quality of education are the main attractions to Covenant Christian School. From our teachers' perspective, we are a very good place to work, as well."
James's message to anyone about to undertake a new building, addition, or renovation is as follows:
"My experience with Horst has been outstanding – I wholeheartedly recommend them. They are a quality group of people that go beyond the superficial; they actually care about what they are doing and it shows. They ask the right questions, not only about the building but also about what we are trying to achieve and the impact on the community. They're always trying to do the right thing…for a bigger cause. You couldn't ask for a better partner than Horst."
Private Education Construction
Horst Construction provides creative, cost-effective, and sustainable solutions for your Private Education facility needs. We understand your unique set of challenges and bring experience and partnership to enhance life and work for your students and faculty. By collaborating with our clients, we develop a complete and detailed cost analysis and scope of work to ensure that there are no surprises when it comes to the details. Our early involvement ensures that your project needs, budget, and ongoing campus activity are kept at the forefront of the project. We strive to control costs at every phase of your project and understand the financial challenges facing Private Education clients. Through our inspired and comprehensive approach, we build exceptional environments—that exceed your expectations.
---
Posted May 12, 2017