SGS and Horst: A Recipe for Success and Very High Client Satisfaction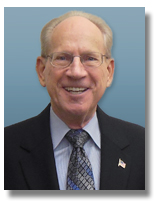 Start with a seasoned professional in global banking; add extensive real life experience building banking branches, computer centers, and office buildings; and mix in operations management for senior housing projects throughout the country. What you get is a lifetime of rich experiences that qualify Bruce E. Garner, Managing Principal, SGS Architects Engineers, Inc. for just about any project you might consider.
---
"Horst is comprised of honest, straightforward, transparent people. We're very compatible and have a common interest in developing long-term relationships with a focus on the customer."
---
Bruce originally came to know the executive team at Horst while building and remodeling the 53 branch offices that comprised the former Commonwealth National Bank. Almost 40 years later, he considers Horst to be a steadfast, recognized leader and trusted partner in doing things the right way, as well as an advocate of the Design-Build method of construction.

Posted March 21, 2017