Senior Care Facilities: Renovating with Residents in Mind
One of the most challenging of building renovations is inside of a fully operating senior care facility. It is also the place with the greatest number of supervisors on the job. Those of you who have worked at an active facility know what we are referring to.
The responsibility that exists for contractors working within a senior care facility should not be taken lightly, nor should facility operators assume that all contractors understand the environment in which they are working.
We've had the pleasure of personally working with several senior care providers to update their facilities, and we've come to appreciate the process for doing the work properly.  There is no easy road and no steps can be overlooked.
Understanding the Facility
Understanding how the facility is operated and/or licensed is the first place to start. Independent living, personal care, assisted living, memory care, and skilled nursing are terms that are used to describe the different levels of care in senior living facilities. Having a clear understanding of what each means and the level of acuity of the resident, within those facilities, is crucial to success for safely executing a project.
Putting Safety First
Safety is by far the most important topic to be discussed when planning a project.  For example, a common safety measure includes a decision to use a plastic wall barrier vs. a solid wall to protect residents from the areas under construction.  Think of it this way, if someone was doing work in your house and you had a two-year-old child wandering around, what safety measures would you want to have in place in order to protect your child? It is no different when working in senior care facilities.
Constant Communication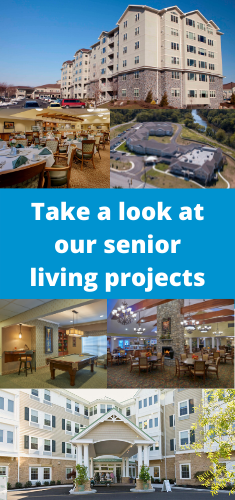 Daily communication with the facility staff is a necessary requirement so that the work can be coordinated with the facility operations. This is an element of safety that is often overlooked. Some seem to think safety means hard hats and safety glasses, when in fact it is much more.
Seniors are curious people and must be communicated with, as well. Remember, you are in their home and they deserve to know what you are doing. If the staff is agreeable to it, we plan a periodic session to let residents know what the project entails and what we will be working on.  They greatly appreciate this information as well as the information that's critical to their personal safety.
We can't stress enough the importance of partnering with experienced construction firms when embarking on a renovation project within an existing and occupied building. There's no class on how to work around seniors in construction management school. It only comes with experience. There is too much at stake to hire a firm that is inexperienced when it comes to both communication and the attention to safety that is required to work in this type of environment. Choosing to hire the "low-cost provider" might save you a few bucks, but it's not worth the risk of endangering your residents.
Senior care facilities are a lot of work, but are also a great joy. We have the opportunity to help improve the living environment of those who have sacrificed so much for us – and we're grateful we can help keep them safe and informed, too.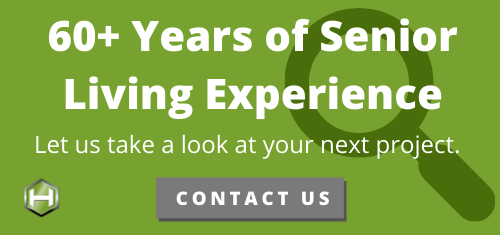 Photo credit: Serge Bertasius Photography via freedigitalphotos.net
Posted June 27, 2016