What to Consider When Selecting Your Construction Partner
by Harry Scheid, President Horst Construction
With over 32 years in the business, Harry prides himself on being a community leader,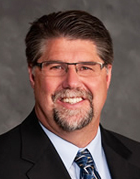 exceptional building provider, and client advocate. As President & CEO of Horst Construction, he provides leadership to Horst's multi-disciplinary teams throughout all stages of a project—from discussion through ribbon cutting. His creative approach to value engineering, constructibility, and planning is one of the reasons clients come back to Horst time and again.
When our clients start to investigate and plan a major capital expenditure, they sometimes overlook the fact that they are getting involved in a relatively long-term commitment. Of course, each project has a unique schedule and timeline; however, for many clients, the process can take several years from start to finish. For example, with churches we work closely with the building committee—typically consisting of church members who lead the major service areas within the church, such as education programs or community outreach—as well as the religious leader. That relationship begins with planning, whether informally or through an in-depth Master Planning Process, and continues through program/budget development, selection of options, and phasing approach; as well as through preconstruction, construction, and ribbon cutting.
Senior living projects, whether for profit or non-profit, also constitute a very long term relationship that can last for years, often including ongoing maintenance and refresh programs after the facility is open for business. Here, the relationship needs to be even more dynamic because the owner, staff, and residents become part of the relationship with our firm. We work alongside them every day, so trust and mutual respect are key components to a successful and long-lasting relationship.
Relationship is Key
The knowledge that you have a trustworthy construction partner in your corner is priceless. Our relationship-based approach keeps our clients and their best interests first and foremost in our minds. We do not see our projects as simply transactions; we are committed to the quality, respect, and communication that our relationships are built upon. I hope this article will give you some helpful advice regarding your choice of construction partner. At Horst, we sincerely want to understand your needs and your budget. Once we do, our goal is to design a project that meets both.

---
Allow us to bring you ideas that you may not have previously considered. I'd appreciate your thoughts and questions. You can reach me at 717.581.9906 or HScheid@HorstGroup.com.
---
Horst Construction, Building Exceptional Environments
For over 120 years, Horst Construction has been synonymous with integrity, quality, and collaboration. We listen first, and then build what matters to you. We work as a team to ensure your goals are achieved…beyond your expectations.
Horst services for exceptional environments include: Preconstruction Planning & Budgeting, Cost Management, Project Management, and Construction.
Posted January 23, 2017