Value-Focused Senior Living Construction



Senior care is filled with unique challenges. Finding a construction partner you can trust shouldn't be one of them.
That's why Horst Construction provides the most value-enhanced construction services available—to help you provide more for the seniors you serve.
Preconstruction services that maximize your savings. In an economic climate that requires careful planning and budgeting, we partner with you to go above and beyond with phasing plans, value engineering, and a la carte pricing structures that give you options to meet your needs and resources.
You deserve a partner who acts as your advocate. It's our job to make your construction project run smoothly, safely, and efficiently so you can focus on the more important things.
We specialize in working safely in occupied facilities. Having the right team working around your residents is important. We carefully select our team with this in mind, including vigorous background checks, clearances, personality assessments, and training for safety and appropriate interactions, as well as special training for those working in memory care units.
Enough about us—it's about you!  Our priority is understanding the goals, programming, and needs for your project. We understand that it's about much more than a set of drawings and a scope of work–it's about creating an environment where your staff can do their best work and your residents can live their best lives.
Experienced Senior Living Contractor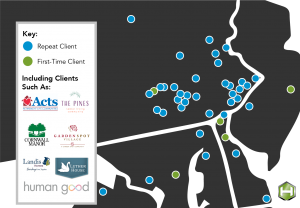 Senior Living Construction Services for Projects of Any Size
Get Senior Living Construction News & Tips
Complete the form below to get building trends, construction tips, and news sent right to your inbox about once a month. You can unsubscribe anytime, and we'll never share or sell your information.