8 Things to Look for When Selecting the Best Construction Company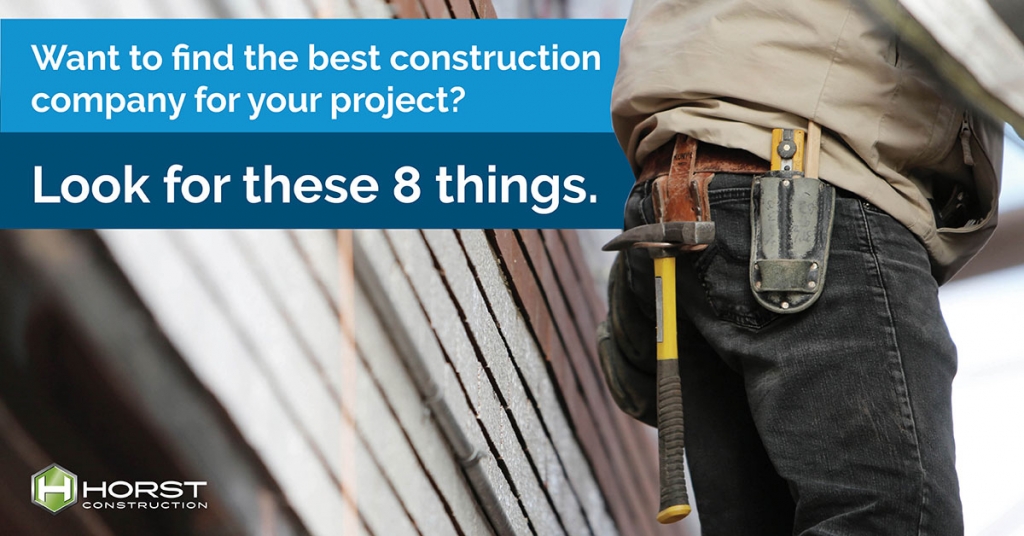 Choosing a construction company to plan and complete your project is a big decision. The wrong choice could end up costing countless hours of your time and more money than you should have to spend. Choosing the right one can make the project process easier, faster, and more affordable.
When evaluating your options, it may be tempting to go with the company that offers the best price.
But there are so many different demands a construction project will place on a construction team. Without relevant experience and the right people on the team, things may not go as smoothly as they should.
To help you select a construction company for your next project, we've outlined eight different things to look for.
1. Relevant Experience
One of the best markers of future success is past success. If a construction company recently and successfully completed a project with many similar elements as your own, there's a good chance they can do it again. They'll have learned how to approach the project successfully and what types of issues can potentially arise.
To evaluate which company has the best experience for your project, first determine what specific elements your project will entail. Look at the scope, the square footage, and the conditions under which the project will take place. What types of rooms or spaces are in the building? How big is the project? Will the project take place in an occupied building, or is it new construction?
Then, make a list of those elements and ask the companies you're considering to provide examples of projects they've completed that fit those qualifications. Keep in mind that in some cases, the experience may not need to be identical to be relevant – but knowing that your selected partner has successfully incorporated similar elements in past projects is important.
2. Project Team
While the project experience of the company is certainly important, the experience of the individuals who will be running your projects may be even more so.
When choosing a construction company for your project, you want to know who will be leading your project on a day-to-day basis. Ask them to provide resumes for key people anticipated to lead your project that include their past projects. This can vary but will typically include the project executive, project/preconstruction manager, and superintendent. The resumes should include the past projects they've worked on, as well as any education or professional designations.
With detailed resumes outlining their experience, you're able to evaluate which team has the best experience for your project.
3. Testimonials, References, & Reviews
Another important step in evaluating your options is to see what past clients and other business partners are saying about them. Testimonials, references, and reviews all give you insight into what it's really like to work with the company. Looks for mentions of the quality of their workmanship, their collaborative approach, and their willingness and ability to work through issues as they arise.
While it may take some time to seek out these references and testimonials, hearing directly from past clients and business partners will give you a clear sense of what it's like to work with a company.
4. Respect for Your Budget
You want the construction team that can deliver the best project for the least amount of money. However, prioritizing cost above everything can be a risky approach.
Instead, you need a construction team that is not only committed to working within your budget but will do so while considering overall value.
When evaluating bids, it's important you look at them holistically as opposed to just the bottom line. If one bid is significantly lower than others, you may want to take a deeper dive to find out why. Did that company miss something? Are they cutting corners now to get the project? While it can certainly be tempting to choose the team with the lowest bid, this could end up causing major headaches down the road. You want to weigh costs right alongside the other items on this list.
Click here for five tips on requesting a bid.
The other cost-related consideration is their ability and willingness to do great value engineering. Value engineering doesn't just mean making your project less expensive. Its goal is to increase the value of your project by taking away or replacing things that aren't essential to the true goal of your project.
5. Their Subcontractors
Quality subcontractors are an essential part of a successful construction project. You want to be sure you're selecting a construction company that assembles the best team possible to get your job done.
You want to partner with a construction team that has experience with the local subcontractor market.  They'll be more familiar with the quality of work and professionalism of the various companies. They should also have developed relationships with the subcontractors they trust and use often, and those relationships can help improve the overall project.
Additionally, your construction team should have a plan in place to prequalify new subcontractors so they're sure they're bringing a reputable company onto your jobsite.
6. Licensing, Bonding, & Insurance
You'll want to be sure your construction companies are fully licensed to do work in your state. You can check this by asking for them to provide a copy of their license in their proposal or qualification responses.
Next, you'll want to make sure your construction company is bonded. This helps protect you in the event that the company is unable to complete the project or executes it poorly.
You should also be sure they have the proper amount of liability and property damage insurance, as well as worker's compensation. Ask for insurance certificates in your request for qualifications or proposal.
7. Safety
If your construction team isn't working safely, you can't have a successful project.
Before choosing a construction team, you need to get a clear picture of their commitment to safety. You can see this through various safety-related markers, like EMR (Experience Modifier Rate) and OSHA 300 and 300a logs.
A company's EMR measures the likelihood that they'll have an accident compared to industry standards. An EMR of 1.0 means the company's likelihood of having an incident is right at the average. Anything below 1.0 means they're less likely to have an accident, and anything about 1.0 means they're more likely to have an accident.
For a deeper look, you can also ask for a copy of their OSHA 300 and 300a forms (with personal information redacted). These standardized forms list any recordable, work-related injury or illnesses.
Even if a company is unwavering in its commitment to safety, unfortunately, accidents can happen. If there are a couple of accidents on their safety reports, they could certainly still be a safe construction company that can deliver a great project. However, if you see accidents are happening frequently, or if the same types of accidents are happening time and time again, that's not the best sign.
You can also ask for information on their company safety policy and if they have a full-time safety officer. This is often a sign that the company takes safe work practices seriously, and they're taking steps to educate their employees and implement effective safety programs.
8. Understanding & Valuing Your Goals
The last, but probably most important thing you'll want to look for in a construction team is that they're committed to understanding and carrying out your vision from the project.
No matter what kind of building you're creating or renovating, it's more than just a floor, walls, and a roof. Each building decision you make will influence the character of the project and the way the end-users will interact with and in the building.
You need a construction company that fully understands what your goals are for the project, both short-term and long-term. They'll be able to help guide you through the process, ensuring you end up with a completed project that fulfills the needs of your organization.
At Horst Construction, understanding your goals for your project is the first step in our construction process. We'll use this to inform everything we do, from preconstruction to project closeout.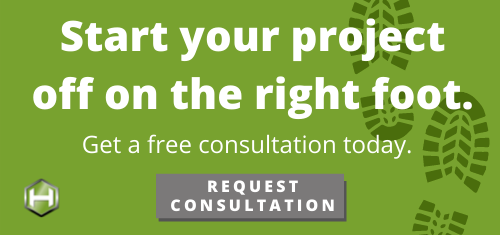 Posted May 24, 2021