How to Get Your Church Engaged in a Construction Project
At the heart of all churches is a deep desire to share the love of God. It is no surprise that many church leaders cite growth as one of their top concerns – particularly, how to accommodate that growth when it happens.
After working with hundreds of churches over the past 125+ years, we've seen many get a little "stuck" during fundraising for an expansion project or renovation. We have been fortunate to partner with and witness the journeys of our church clients, and have come up with a few ideas to share that might help get your creative juices flowing to improve outcomes of your fundraising and engagement efforts.
The bottom line?  COMMUNICATE!
The more you can get the message out to each and every person your church serves, the more effective your campaign will be. In order to do that, you might benefit from trying several different ways of involving your congregants and getting them excited about the growth of your church.
Ten Ways to Get Your Congregation Engaged in Your Church's Construction Project
We have compiled 10 creative ideas to get you started. This list is far from exhaustive – the possibilities are truly endless! The biggest key is authenticity – make sure your methods match your church culture and feel genuine.
1. Involve your congregation early in the planning process
From ground and maintenance to music, sound, and lighting, there are many different members of your congregation with different responsibilities. These responsibilities and specializations all require different things to be successful. By involving representatives from these different disciplines in the project's planning process, they'll have a chance to speak to their needs and design a new space that fits those needs. These focus teams can then work together to unify the vision for the church, creating a truly effective and welcoming space for everyone in your congregation. This will instill excitement through all groups in your church, uniting you towards your goal. Click here to see how we've helped churches unify their vision with master planning.
2. Incorporate the project and goals into messaging and sermons
Your new space should help foster fellowship, serve the community, and help you worship better. Let your congregation know how your new or improved church will facilitate that. Understanding the "why" behind the project is essential to motivating your congregation.
3. Hold an informational seminar
Communication is key to a smooth fundraising and construction project. Get your congregation excited about the project by informing them of the project's goals and how you plan on achieving them with an informational seminar. Keep them abreast of changes and development with seminars throughout the project.
4. Create a walk-through video to share
Construction projects are hard to visualize from a few renderings or plans. Take things to the next level by developing a 3D walkthrough video of the new space. This will give your congregation a better idea of what the end result will look like. The more "real" the project feels and looks, the easier it is to get excited about it.
5. Create a website or social media page focused on your project's goals and progress
Adding a page on your website or sharing updates on your Facebook page is a great way to communicate information about the project to a lot of people. This would be a great place to share that walk-through video or share information from the seminars. Having a designated location where members of your congregation can access information on the project at any time will help keep communication flowing smoothly.
6. Schedule a prayer walk of the site
Whether you're constructing a new building or renovating an existing area, organizing a group to conduct a prayer walk can be a powerful experience. Take time to gather as a group to ask God for His blessing throughout your new endeavor.
7. Hold a groundbreaking ceremony or celebration
A groundbreaking ceremony marks the start of the construction project. This exciting event can spur new inspiration in your project. Finally, all those hours spent planning are about to pay off!
8. Use video to get people excited and develop connections to the project
Whether that's an interview with the focus teams on their goals for the project or a project walkthrough, videos are a great way to share information with your congregation.
9. Invite your congregation to leave their mark at a beam signing event
Like a groundbreaking ceremony, a beam-signing or topping-out ceremony marks another important milestone in your project. When the last or highest beam is placed, your congregation can get together to celebrate a job well done. They can leave a lasting mark on the project by writing their name or a message on the beam.
10. Involve the youth and children of your congregation through an art installation
Nothing quite sparks joy like seeing the heart-felt creations of our little ones, or the happiness they feel when they see their work on display. Get creative with ways you can use their artwork in the project.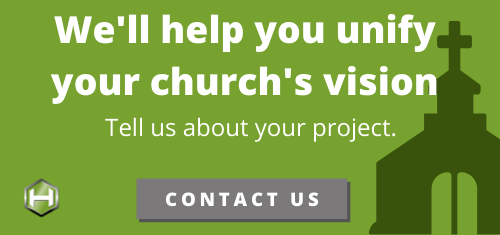 This post was originally published in June 2019 and was updated March 9, 2020.
Posted January 03, 2019