Top 10 Lessons Learned from Challenging Construction Projects
While we at Horst do our best to ensure that challenges are discussed and addressed upfront, there are always lessons to be learned from our generations of experience working on hundreds of projects.
1. You WILL encounter problems during the process.
Problems inevitably arise during any construction project—no project is completely free from issues. That's why we address the snags as they occur and share best practices among our PMs to avoid future difficulties.
2. Prepare for the land development approval process.
Land development is a lengthy and difficult process, so it's best to be well informed and temper your expectations. Become familiar with your municipality's amendments, and which parties are required to review different aspects of your project. View our Permitting Tips
3. Build a strong team.
The right team makes all the difference. Ensure that your team is capable of performing the work efficiently and effectively. That's why building solid relationships with high-quality subcontractors and other experts is a priority for Horst.
4. Take note of lead times.
One of the most common struggles is handling the arrangements for necessary materials and equipment. Lead times can, at times, be surprisingly long; therefore, orders should be placed as soon as appropriate.
5. Project scheduling is a key component to success.
That means having a thorough and detailed schedule built, as well as holding everyone to the schedule. Most importantly, make sure the schedule is well-communicated to the team, including subcontractors.
6. Keep scope in check.

Evaluate each portion of the project scope to ensure that you understand and resolve any perceived discrepancies. Additionally, it is important to avoid 'scope creep' – small or superfluous items that sneak into the project and add unnecessary cost or time. Learn more about change orders here.
7. Stay true to our values, no matter what.

Sometimes, the right way is not the easiest way, nor is it the most convenient. Horst is proud to be a values-based organization—it is one of our cornerstones to ethical behavior.
8. Communication is key.

Keeping the lines of communication open, with not only the Owner and Design Professional, but also with all subcontractors and vendors, is critical to creating a reliable, quality-driven outcome.
9. Project meetings are crucial.

There's no better way to communicate than to ensure project meetings are scheduled and conducted on a regular basis. Meetings should be well planned, and key players should all attend the meetings to maximize efficiency. View Our Tips for an Efficient Project Meeting
10. Sometimes Mother Nature has other plans.
The weather is one factor that even the best contractor cannot predict. For this reason, it is important to plan meticulously, but have flexibility built into your plans for Mother Nature.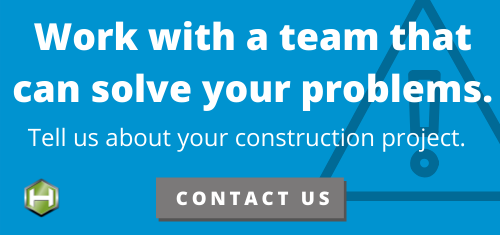 For more information regarding management on your next project, contact Jake Moyer at 717.581.9967 or email JMoyer@HorstGroup.com.
Editor's note: this blog post was originally published on December 4, 2017. Its formatting has since been updated.
Posted February 28, 2020