Need to Expand Your Private School? Here's Where to Start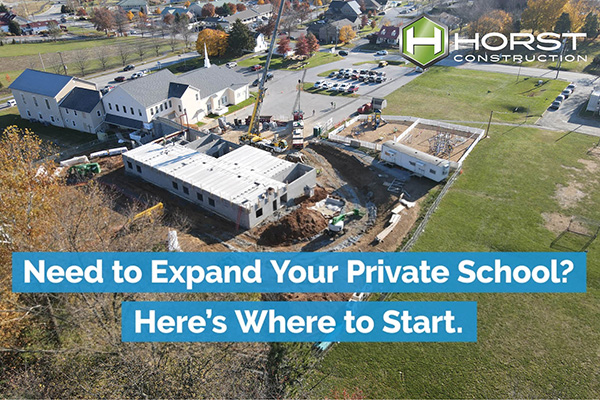 Is your enrollment growth making it hard to meet the facility needs of your school? Our free, no-pressure evaluation and planning session is the perfect first step when expanding your school.
In the current age of state-mandated COVID regulations, many private schools are seeing enrollment increase at unprecedented rates. And while a growing student body is great, it's not without its challenges. Chief among them is the strain an influx of new students puts on your facilities.
We understand that it can be difficult to know where to start or how to meet the ever-changing needs of your students and staff. This can be particularly challenging when considering that increased enrollments do not always equate with increased financial resources. These frustrations can be greatly alleviated by finding a trustworthy and knowledgeable construction partner.
In our 125+ year history, Horst Construction has developed the expertise to provide value-based solutions to schools just like yours. Combined with our client-centric approach, we can help you assess the specific needs of your school and create a feasible plan to adapt to current growth. We can also help you plan for additional facility needs in the future.
With a free planning session, we can help you determine the most immediate needs and establish a plan to meet them – regardless of your budget.
Here's how we can partner with you to help solve your facility needs.
Use Existing Space to Meet New Needs
If you have an immediate need for more space in your private school, sometimes the fastest and most affordable option is to reimagine spaces you already have. By looking at areas in the school that may be underutilized, we can make small adjustments that will transform the space to meet your current needs.
This can include things like adapting an extra multi-purpose room into new classrooms by erecting a few walls, or perhaps incorporating moveable partitions into a gymnasium to allow for adjustment and a variety of uses.
However, for this to be successful, you need a construction partner that will take the time to truly understand your school's short- and long-term needs. A quick band-aid solution may feel like the right move at the time, but have a negative impact in just a few short years. At Horst, we focus first on creating a meaningful partnership based on understanding your unique needs, so we can guide you through optimizing your resources to serve your school's best interest.
Prioritizing Speed, Efficiency, and Budget
New Covenant Christian School in Lebanon, PA was experiencing a quick rise in enrollment. They needed more space for their growing student body in the form of a new fitness center and classrooms. In order to work with the school's current budget, we devised a plan to split the project into four phases. That way, the most essential portion could be built as soon as possible.
We understand that a boost in enrolled students doesn't automatically lead to a huge boon in money for capital improvement projects. Fundraising efforts and acquiring donations and other financing can take time.
If you have the time to raise funds for a more complex project, we're happy to work with you throughout that process. But if your needs are more urgent, we can help you work with what you already have to address pressing needs quickly and efficiently.
Our education sector projects are successful due to thorough planning, attention to safety, and minimizing disruptions to your ongoing activity. We'll create a project plan that prioritizes your most pressing needs, so we can make the most out of what you have, including both time and monetary resources.
Considering Long-Term Goals and Short-Term Needs
During your free consultation, our main focus is going to be how we can use your budget to meet your immediate needs as quickly as possible. However, we'll also consider the long-term implications your new project will have on your school.
For example, technology's role in education is ever-increasing, and the devices we use are constantly changing. If you are considering a new space, you may also want to take into account how easily today's and tomorrow's technology can be integrated into that new space. With just a few small changes, you can ensure your new building will be suited to the needs of tomorrow. This could include enhanced access to Wi-Fi in each room, additional outlets or device charging ports, and more.
Another long-term design trend in school construction is cleanliness and design elements that prevent the spread of illness. Regardless of one's outlook on COVID, infectious diseases like the common cold and the flu have always and likely will always spread through schools. Several design elements can be worked into your school's design to help slow the spread. These include things like:
Easily-cleanable surfaces
Anti-microbial finishes
Touchless technology for doors, lights, etc.
Additional sanitizing stations
Enhanced air filtration
These elements can serve as an easy way to reduce the spread of illness without the need for changes in behavior or safety equipment.
Take the First Step
Congratulations on building a school community that continues to grow and shape the world around you. If increased enrollment or interest is causing stress due to your current facility limitations, we urge you to give us a call or fill out the form below.
With our free no-pressure evaluation and planning session, you'll set up a time to talk with our in-house master planning specialist. Rick is an experienced registered architect with a heart for serving others. He will meet with you to discuss your needs, goals, timeframe, and budget. Then he can help you create a plan to expand your school to meet your growing needs.
Take the first step today and fill out the form below.
Posted December 17, 2021