Three Simple Steps to Planning a Construction Project
Starting a construction project can seem daunting. Between budgets, the design, the schedule, and more, there's a seemingly infinite number of things to consider.
During the planning process, these considerations can have a significant impact on the construction process and the final product. But with the right approach, you can keep the project planning phase both simple and effective, setting your project up for success.
This blog outlines how to do just that. We share three simple steps that will help you get your construction project moving in the right direction:
Step 1: Clarify Your Goals
The first step in any construction project, be it big or small, should be to develop and clarify the goals of the project. This establishes a clear direction. Keep these goals top of mind as you're making other decisions in the planning phase and beyond.
Not only will this keep the decision-making process easy, but it will also ensure you're only spending time and money on what you need. Working out your vision for the project at the very beginning will reduce the need for expensive change orders down the road.
To flesh out your goals, jump ahead and imagine what the ideal completed project is like. Ask yourself questions like:
What do you hope to accomplish with the project?
How will the new space be used?
Who will use this space?
What value will this project add to your organization?
While being specific about these goals is important, don't get too bogged down in the details. For now, work towards creating an overarching vision for the project. The specifics can come later.
Step 2: Identify the Right Team
Having the right team behind you is essential to the success of your project. To help guide you in forming a team, consider these two questions:
Who should be involved internally?
Which construction partner is the right fit for you?
Engage the right people from your organization to make up the internal project team. Having key stakeholders share their insights into their needs for the new space is invaluable. That said, having too many people involved can complicate the decision-making process.
Additionally, you'll have to select an external project team made of building and design experts. Depending on the scope of your project, this can include a construction company, architect, engineers, and various specialists and subcontractors. For most projects, owners will start off with a construction team and/or an architect. The make-up of your team is dependent on the project delivery method you choose. To learn more about your options and which is best for you, check out this blog.
When it comes to choosing the right companies, look for things like relevant experience and the right project approach. While these are extremely important, so too are the teams' values. Choose partners that understand your vision for the project and share your values as a company.
For more on how to choose the right construction team for your project, check out this blog.
Step 3: Determine Your Budget
Feeling the push and pull between your desired project scope and your resources is common in the planning stage. The best way to remedy this is to determine your budget early on. To do so, consider these two questions:
How much can you afford to spend on the project?
What is necessary in order to secure financial resources?
Take an honest look at how much you can afford to spend on the project and determine what you'll need to do to secure financial resources. Will it require a discussion with a lending institution? Will you raise funds and request donations?
Then, communicate this to your project team. It's their job to be honest about what you can do with the funds you have. And if you're working with a construction team that understands your project vision, they can work with you to fulfill it in a way that is also in line with your budget.
While it may not be possible to realize 100% of your project's vision at one time, your team may be able to help you break it down into several phases. At Horst Construction, we recently helped New Covenant Christian School do just this.
By phasing out the work, they were able to construct the most vital portion of the school's expansion and upgrade while raising funds for subsequent projects.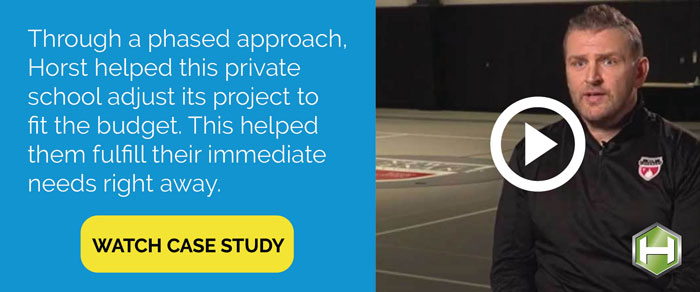 Starting Off on the Right Foot
The decisions you make in the initial stages of planning your construction project can determine the success of the entire process. Determining what you want out of the project, who you want to work with, and how much you can invest will all play a role in the project's success.
At Horst Construction, we love to get on board early in the project process, helping people like you work through these important early steps. Drawing on our vast experience, we can guide you through these decisions to ensure the planned project rests on a solid foundation before additional complexities are added into the mix.
Whether this is the first construction project or you're a project-planning veteran, we can add value to your project. Click here to tell us about your project.
Keep the project planning process simple. Download this six-question worksheet to help get you started on the path to success!
Posted May 09, 2022