6 Steps of a Construction Project
When many people think about what goes into a construction project, they picture big machines on job sites, methodically erecting their new building. However, it takes quite a bit of planning and teamwork to get to that stage. These steps are less apparent but just as important.
In this blog, we'll take a look at the six basic steps it takes to get your project from an idea to a move-in-ready building.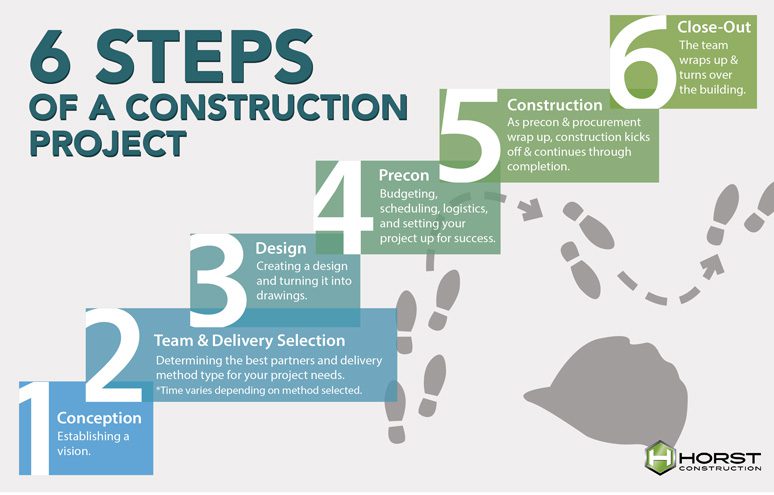 It's important to note that the order of these steps may vary depending on which project delivery method you choose and your timetable for the project. Additionally, your project team may work on more than one step at the same time to optimize the schedule.
Step 1: Conception
Creating a Comprehensive Vision
This is one of, if not the most important steps in any construction project. During the conception stage of your project, you begin to plan what the building will look like and what needs it will accomplish.
To make the most out of this phase, and to create a solid foundation for the project moving forward, it's crucial to begin by determining the project's overall vision.
One way to make the most out of this step is with master planning. Master planning services can help organize your thoughts and needs into a cohesive strategy and consider all the short-term and long-term requirements for the property from the perspective of the many people who will use it. Obtaining expert insight can offer new strategies for maximizing your space and available resources in unique ways that may not be initially obvious.
Contrary to popular belief, master planning is not exclusive to large projects. From mid-sized new builds to a small renovation, all projects can benefit from master planning. It will help maximize your resources and ensure you develop a new space that supports your business or organization's vision. To learn how master planning can be beneficial to projects of all sizes, click here.
If master planning isn't for you, you can take on some of the project's conception with your own team, and then work with the architect to flesh it out. In this case, this step may blend in with steps 2 and 3.
Step 2: Team and Delivery Method Selecting
Choosing Your Partners
Choosing a team to bring your project vision to reality is a big step that will have a major influence on the outcomes you experience. The most successful projects come from teams that understand your project goals and will work as your advocate to execute that vision every step of the way.
How you build your project team may look different depending upon the project delivery method you have selected.
In a design-build project, here is when you'd choose a design-build team. In some cases, this team will feature both a construction firm and a design firm proposing for your project as a joint team. They'll essentially combine forces for your project, condensing both firms' expertise into one convenient point of contact.
In other cases, you'll first select either an architect or construction firm. Then, later on, the missing firm will be selected and join the team.
If you have worked through a master planning process, you will have the option at this point to continue working with the team or selecting a new one. Continuing that relationship is often beneficial to you because they are intimately familiar with your project goals and needs – but you will have the opportunity to explore other options should you so chose.
With a design-bid-build method, you'll first select a design team to carry you through step three. Then, once the project has been conceptualized, you'll send out the drawings to various construction firms. They'll use the construction documents to pull together a bid, and you'll then select the construction firm based on the bid and their qualifications.
Which way is better? That depends on your preference and the time and resources you have to dedicate to the project. We've developed a short quiz to help guide you towards which project delivery method is best for you. Click here to take the quiz.
Design-build projects benefit from the early collaboration between the construction and design teams, who are contractually bound together. This creates an inclusive team-centric atmosphere surrounding the project where all input is discussed together and decisions are made as a unit. Additionally, the design-build firm will take on further responsibilities that otherwise would fall to the owner, like paperwork, team coordination, and other miscellaneous administrative tasks.
This differs from the design-bid-build method, where the architect is focused and contractually bound to the design portion only, and the construction team is focused and contractually bound on the building portion only. This means the collaborative exchange of meaningful information in the design process between the two is often missing in design-bid-build scenarios, as the designer and builder are rightfully concentrating on their contractual obligations only.
A common misnomer about delivery methods is that the only method to offer competitive bidding is design-bid-build. However, this isn't the case at all.
In fact, design-build projects are statistically more likely to come in on budget thanks to fewer change orders. In addition, most design-build projects (and all design-build projects with Horst) will still be competitively bid to subcontractors, so you can rest assured you're getting a great price.
Depending on your preference, this step can extend from step one (with master planning) through step three.
Step 3: Design
Conceptualizing the Vision & Creating Construction Documents
During the design phase, you'll work with the design team to turn your project's vision into drawings and blueprints. They'll be sure to consider programming and feasibility with things like the building's size and layout. This will then lead to the schematic design, which is a sketch that will give you a sense of what the building will look like. The sketches will then be used during design development, where the team will begin to consider the costs associated with creating that space.
Once that is worked out, the construction documents will be released. They often come out in three stages known as the 30-60-90 design process. Each phase of drawings will include a greater amount of detail. This allows you to take in all the information on each stage, so you can provide your comments and feedback in incremental steps.
To learn more about the 30-60-90 design process, check out this blog.
In a design-build approach, the construction team will be there to contribute their expertise during the design phase. They will be able to offer suggestions about constructability, best value, material selection, and longevity factors, and more. With a design-bid-build approach, the construction team will be brought on after the project has been designed, which makes changes at this later stage more difficult and more expensive.
Step 4: Preconstruction & Procurement
Planning the Construction Process
Whereas steps 1 through 3 focus on planning the overall building, preconstruction is where the construction team will develop a plan for the actual construction of the project. The goal of this stage is to create a plan for building the project that's in line with your goals and vision. It will deal with budgets, schedules, and other factors essential to completing the project.
The team will further develop and analyze the project's budget, looking for ways to enhance the value of the building with value engineering. They may suggest alternative methods or materials, as well as offering opportunities to increase the overall value of your project with minimal impact to your bottom line.
They'll develop a schedule that will plan for all required work, taking into account any logistical or phasing requirements. They will begin to create a job site safety plan and will also establish communication methods to relay information between the team for the duration of the project.
The preconstruction team should also identify potential issues and take corrective or precautionary actions to attempt to reduce the number of change orders and delays.
If not taken care of in Step 2 (Team and Delivery Method Selection), your construction team will issue the packages out to bid to their list of trusted bidders. They'll select the best firm to complete the project. While they'll certainly take price into account, they'll also consider important factors such as experience, reputation, and overall ability to do a good job. They'll also finalize and line up the material purchasing and equipment needed for the project.
Preconstruction is also the phase where your team will iron out the details of permitting and/or land development. This process can be a lengthy one, depending on the specifics of your site. Rezoning, geographical features of the site, the specific requirements of your municipality, and various reviews by different departments will all have an impact on the duration of this step.
To help facilitate this process, you'll want to partner with a construction team that has experience building in the area and is familiar with the necessary steps. They'll know when to get the process going to meet your project's schedule goals.
For more information on land development and permitting, check out this article.
Step 5: Construction
Actualizing the Design
As preconstruction is wrapping up, the construction phase can begin.
After all the planning leading up to this stage, starting this step is often something worth celebrating! Oftentimes, the project team, owner, and other project stakeholders will get together to commemorate the project's start with a groundbreaking ceremony.
Then, work will begin! The construction team will be on-site to manage subcontractors, ensure work is being performed correctly, keep the site safe, and keep the team on schedule.
While this is where the construction team and their subcontractors bear the brunt of responsibility, all other teammates will still be involved. The design team will perform quality inspections to ensure the work taking place matches their design, and they'll be available for answering RFIs (requests for information).
As with every step of a construction process, communication between all parties is essential to keep the project on track to ensure work is completed to spec. While in years past communication could be a major hurdle for teams, new technology is making it easier than ever to communicate meaningful information regularly with the people who need it.
Additionally, your construction team should have a professional specializing in workplace safety who visits the site regularly. They'll make sure everyone is working safely, and they'll be able to address any concerns to help prevent future incidents.
As a project owner, you'll be able to tour the site and check in on the progress in person as well. If you're jobsite is located in a different city or state, or regular project tours don't fit into your busy schedule, your construction team can still keep you abreast of the project's process. They'll work with your to establish the right amount and format of information so that it is helpful, informative, but never overwhelming.
Step 6: Close-Out
Wrapping Things Up
As the last of the fixtures are installed and the final coats of paint go on the walls, project closeout can begin. Here's when they'll turn the building over to the owner, passing on all the knowledge that's essential to running the building.
During this stage of the project, your construction team will wrap up the project's punch list, ensuring the building is turned over with all the finishing touches realized. The project owner will receive all the project closeout information, which includes equipment warranties and manuals, and as-builts.
Additionally, your team will need to apply for and receive a certificate of occupancy before you can fully occupy your new space. A building inspector from your city's local zoning or building department will conduct several inspections, including fire, electrical, plumbing, and general building.
Once the project is complete, the celebrating can begin! Depending on your preference, you can hold a ribbon-cutting ceremony or grand opening to announce to the community that your new facility is completed and ready for business. It's also a great time to commemorate all the hard work that has gone into the project with the entire project team.
Looking back on the project, this would be a great time to provide references and testimonials for your partners throughout the project. If you feel that they went above and beyond for your project, sharing that information will be invaluable to them as they pursue additional work.
If they did a less than stellar job, you should feel free to say that too. Honest feedback will help them to identify their weaknesses as a company, and it can also give them a chance to make things right with you before parting ways.
Ensuring a Successful Project Journey
A lot of planning, coordination, and work goes into every single construction project – regardless of how big or small it is. Each step builds upon the next, meaning if a mistake is made in the early stages, the ripple effects will be felt throughout the remainder of the project.
That's why it's so important to assemble a team that has the applicable experience and the commitment needed to do things the right way.
With the right project team, they can make this process simple and easy for the client every step of the way, and turn over a beautiful, functional final product.
Posted August 03, 2021