Building a New Church? Here's Where to Start.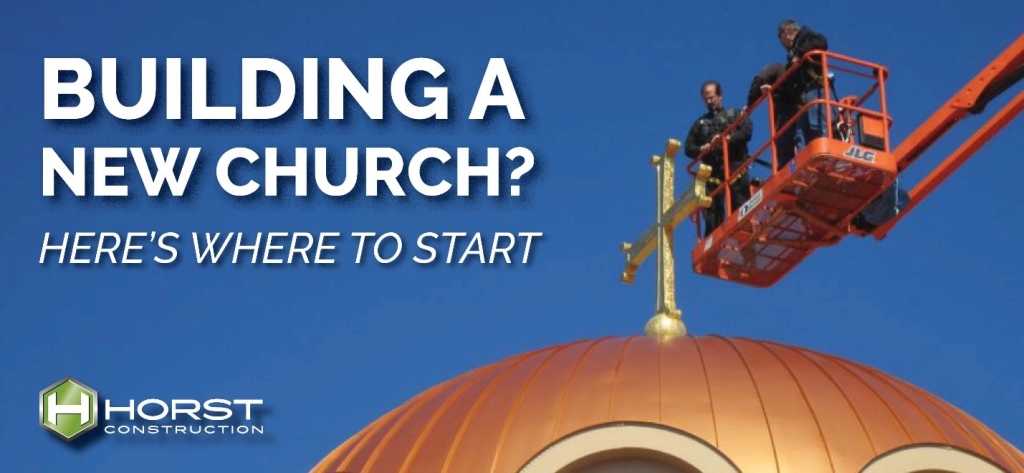 Whether you're building a new church or renovating an existing space, embarking on any type of facility improvement for your worship space can be a stressful process. With so many decisions to make, interests to serve, and tasks to complete, it's difficult to know where and how to begin.
But with the right approach, you can make this process efficient and productive while setting your project up for success. In this blog, we lend our 130+ years of church construction expertise to distill all the essential steps into manageable tasks that'll help you get your church's construction project started off on the right foot.
Assess Your Needs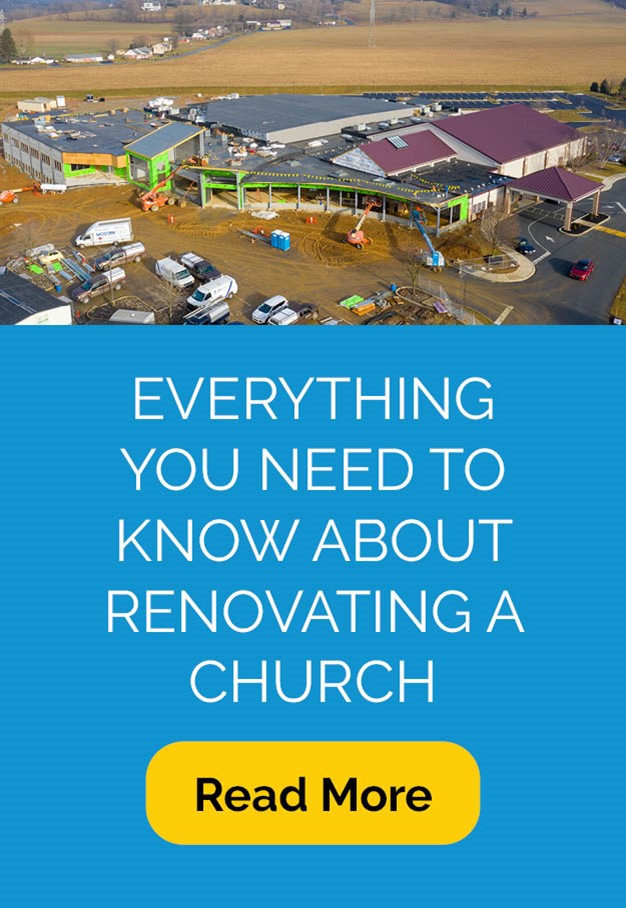 First things first, clarify what needs are driving your church's construction project. In some cases, starting with a new build is the best course of action. In others, a renovation or addition could be a more efficient use of your resources.
Consider your current space limitations and what type of environment would best suit your church. You want to evaluate how your community is growing, as well as what impact that growth will have on your facility down the road.
Think about what types of spaces are important to the way your church worships. For example, some churches prefer one large fellowship hall that can serve multiple purposes and others prefer a dedicated sanctuary for worship with separate supporting areas. What type of space do you need for community outreach, classrooms, meeting rooms, and other breakout areas?
The construction of a new building is a substantial investment. You'll want to do your best to consider all the needs of your congregation today and in the future. By doing so, you'll ensure your church is investing in a long-lasting space that will serve the congregation for years to come.
Tally Your Resources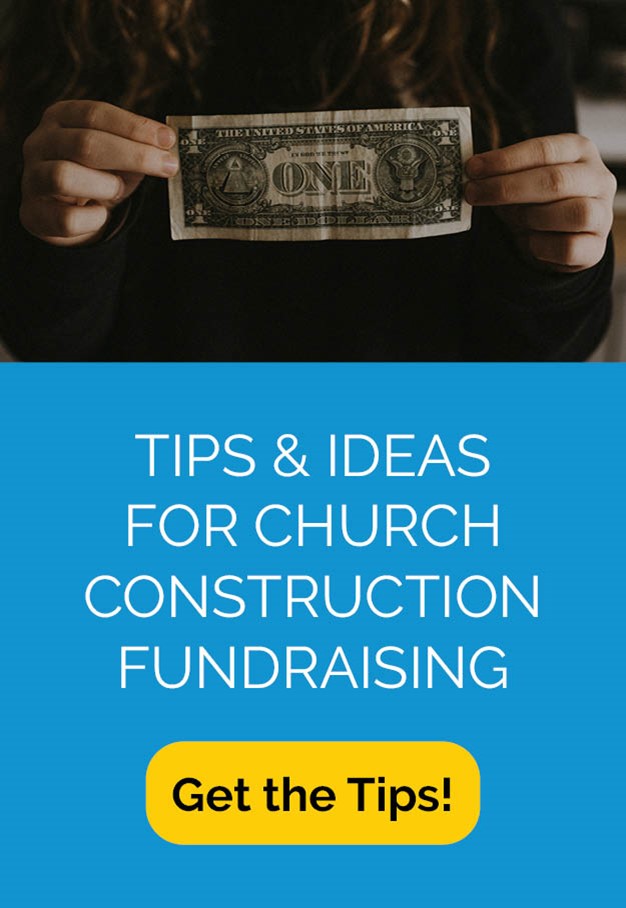 Next up, you'll want to consider what resources you have to dedicate to the church construction project. This of course includes financial resources, but it doesn't stop there. Evaluate your options for land and development. Do you have access to funds or financing, and if so, how much? Think about the giving environment for your church and what fundraising may look like.
You should also consider how much time and effort your congregation can contribute to the church's construction project. This undertaking will require varying levels of oversight from members of your leadership team and/or building committee.
Knowing what resources are available to you upfront will help you determine the feasibility of your project and identify any roadblocks early on.
Assemble Your Building Committee
Another important step in the church building process is to create a building committee if you don't already have one. This is a team of members who will oversee the planning and construction of your project. The building committee should feature people of relevant but diverse backgrounds willing to contribute their unique perspectives and expertise to the church-building project. They should work alongside church leadership to ensure that the construction project will meet the needs of your entire church.
They can be members of your church who are architects, engineers, construction managers, or tradespeople. They can also be members who represent different interests in your church. Before making big decisions, get input from the people who will be using the space. Be sure that groups like Sunday School, Choir, and Youth teams have had their voices represented.
Once a team is assembled, your church's construction planning process can take flight. With the right approach, these meetings can be especially effective. Get your project off on the right foot with these 10 questions your building committee should ask before you take the next step.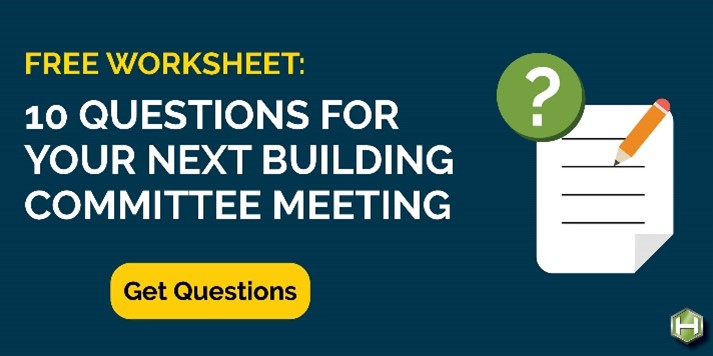 Home In on Your Vision
Through the first few steps of the church-building process, you've probably already established some type of vision for your project. But now that your building committee is assembled and your needs and assets are tallied, you can further flesh it out.
This process requires asking and answering many questions. But they'll all stem from and relate back to one: What do you hope your construction project will bring to your church?
There will be obvious answers, like "a larger worship space" or "a renovated activity area." But there can also be reasons that are less literal. These could include things like facilitating growth or increasing community outreach.
Think about the style and aesthetic of your worship space, its functionality, and necessary amenities. The clearer your vision is, the easier it will be to bring it to life. It will serve as the context of all your decisions on the project from here on out.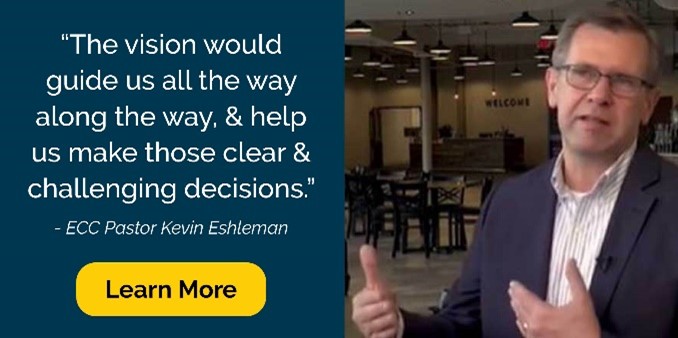 Find the Right Partner
The project team you choose for your church's construction project will have a huge influence on how your project goes. From design to construction, having a team that understands and prioritizes your vision is key to the success of your project.
Look for a construction partner that has extensive experience in church construction and a proven track record of success. They should be committed to not only sticking to your budget but to optimize it. Through effective value engineering and creative problem-solving, they'll be able to help you maximize your results with the resources you have.
Additionally, consider the values and mission of the company you'll work with. Does the way they do business align with your beliefs? Ensuring they're a good fit for your church from the project approach to the company's vision will help you and your project thrive.
Get Engaged in the Construction Process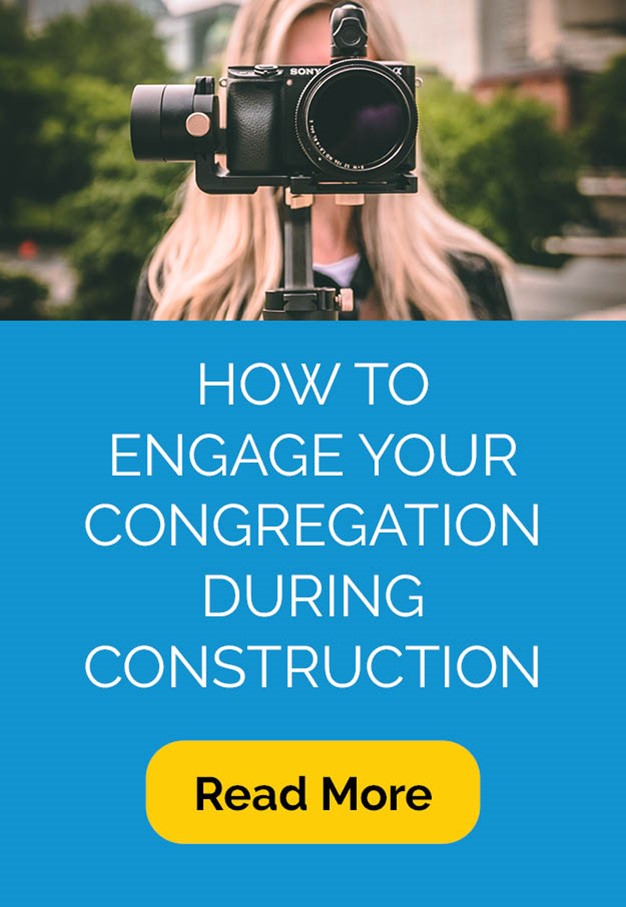 With a team assembled and the planning and construction process underway, you want to maintain involvement and expand that to your congregation. As a leader or member of the building committee, your job during this stage will be to relay information from the project team to your congregation, as well as represent your congregation's interests to the project team.
Find ways to effectively communicate regular project updates with the congregation. This could be special meetings, newsletters, social media posts, or update videos. At Horst Construction, we understand the importance of clear communication across the board and are always excited to help our clients communicate the project's progress to their congregation in whatever way works best. This includes in-house videography and photography services, and any other support you may need.
Keeping your congregation involved in the construction of your new church helps set expectations and can also help encourage donations and other support.
Taking the Next Step
The best way to keep this potentially overwhelming process manageable is to get the right team on your side as early as possible.
At Horst Construction, our unique approach to the church construction process includes working with a dedicated master planning specialist. They'll help you work through these steps and more, ensuring you have a solid construction plan that fulfills your vision and fits your budget.
Learn more about our master planning process here, or kick things off by requesting a free consultation today.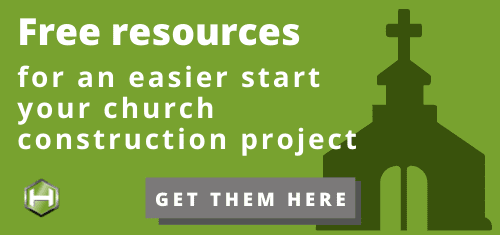 Posted April 06, 2023