A Special #TBT Story about Grace Fellowship Church

Certain stories become legendary around our office. Sometimes they reach this status because of an amazing feat that we are proud of, like meeting an intense deadline or our crews stepping it into overdrive and going way above and beyond expectations. This particular story has achieved its position of prominence because it felt like God was literally talking to us through a project. In honor of Easter, we thought we would share this story and give you a little piece of Horst folklore (read until the end for the goosebumps!).
Grace Fellowship Church, Unionville, PA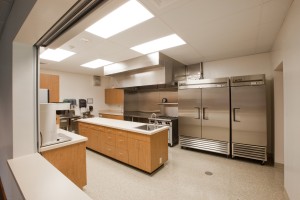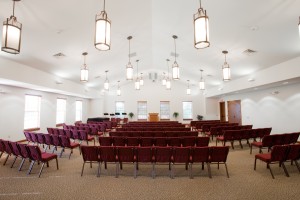 Please let us start by saying that all of our projects are important to us and we sincerely love that each project has its own story. Here at Horst Construction, we complete projects of varying sizes, complexities, and time frames, leading to very different stories depending on the project.
When we began the 10,000-square-foot addition and renovation for Grace Fellowship Church in Unionville, PA, we anticipated a pretty straight forward construction process. The project involved renovating the historic Unionville Grange building and building a moderately sized addition to house a new sanctuary with flexible seating, a commercial kitchen, multi-purpose space, and increased educational space for the congregation.
Before the project began, the church placed a wooden cross on the building site for their Easter sunrise service. They wanted the cross to remain rooted throughout the construction process, with all construction activity occurring without moving the cross. While not an easy feat to accomplish, we found this to be a doable task. We always say that we listen to what matters to our clients and affect our methods and operations to meet their needs and expectations, and that is exactly what we did in this scenario. We carefully constructed the project as requested with a precision and accuracy we were proud of. This video shows just how closely we had to dig around the cross, at around 0.33 seconds.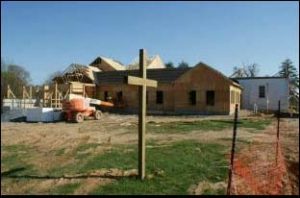 The construction was completed over 10 months and a dedication ceremony was held in September 2009. The church was very excited to celebrate the fall/winter holidays in their new home. The real surprise came a few months later as spring rolled around.
On Easter morning as congregants began to arrive, they were greeted with a gloriously beautiful sight – a rainbow was shining directly over their new church! In fact, if you look very closely, it was actually a double rainbow – a rare and awe-inspiring moment to behold. Members took a moment to snap the above photo of this blessing, and shared it with us, along with a thank you for bringing their vision to reality. Much like the double rainbow, we took this exchange as a doubly blessed event.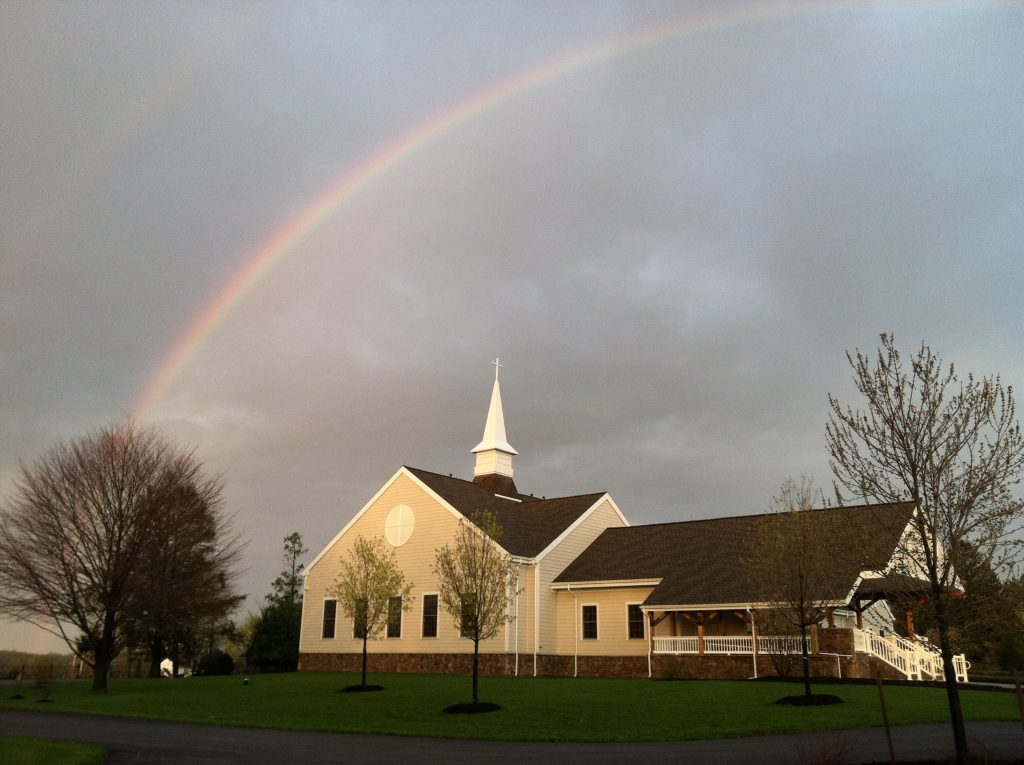 Horst Construction has been building exceptional religious environments for over 125 years, and it is a market sector that is near and dear to us. We saw this particular event as a small but beautiful sign from God that he was blessing our work and the new home we had built for Grace Fellowship Church. It felt like he was smiling down on all of us and blessing that moment with his love. Not only that, but our client was so pleased with their construction experience that they thought of us when they saw this lovely reminder of God's grace and shared it with us. That was a meaningful reminder that we always focus on building relationships before buildings.
And so, this has become a story that comes up in our office at least once a year, at Easter. It's a story that has passed through from employee to employee and makes up the fabric of who Horst is and what we stand for.

This project was completed in partnership with Bernardon.
Posted April 18, 2019